Raise a Floppa - The Loop
Play Sound
The Xero Blimp is a blimp that appears in the enhanced version of Grand Theft Auto V.
Design
Grand Theft Auto V
The Xero Blimp shares the same design with the Atomic Blimp (based on the Goodyear Aerospace GZ-20 blimp), the only difference being the Xero livery instead of Atomic.
Current Design Gallery
Performance
Grand Theft Auto V
Despite what is described by Rockstar as a faster version of the Atomic Blimp, there seems to only be minor differences, with the main changes in handling and gaining altitude, as its top speed doesn't seem to have changed. The Xero Blimp, like the Atomic Blimp is still prone to exploding upon the slightest of crashes. Overall, the Xero Blimp is much more nimble, maneuverable, desirable and more durable than the Atomic Blimp.
GTA V Overview



Aircraft Statistics - Grand Theft Auto V

Take-Off Speed
(0-60 knots in Seconds)
Top Speed
(mph / kmh / knots)
Vertical Climb/ Descent Rate
(ft/min)
Engine Type
Engine Location
Mass
(kg / lbs)
Fuel Tank
Size (litres)

Handling.meta

N/A
99 / 160 / 86
N/A
N/A
N/A
12000 / 26455
100

Website Statements

[?]

N/A
N/A
N/A
N/A
N/A
N/A
N/A

Observed / First-Person Airspeed Indicator (Enhanced version)

N/A
N/A
N/A
Twin 2-bladed propellers
Side-mounted
Cannot be observed
Cannot be observed

Rockstar Games Social Club

Speed
Acceleration
Braking
Agility
Image Gallery
Locations
Grand Theft Auto V
The Xero Blimp can be ordered from a special phone contact and will be delivered to the closest of the following spawn points (which are the same as the Atomic Blimp):
Trivia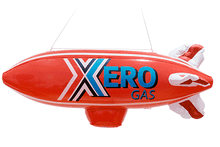 When ordering the Blimp, the woman on the cell phone will still say "Atomic Blimp", likely a reused dialogue from the Atomic counterpart.
A 24' inches long inflatable replica of the Xero Blimp can be found for sale on the Rockstar Warehouse for 13 USD / 11.89 €.

This makes it the second Grand Theft Auto vehicle to be replicated in a piece of merchandise, the first being the Bugstars Burrito keychain.
See Also