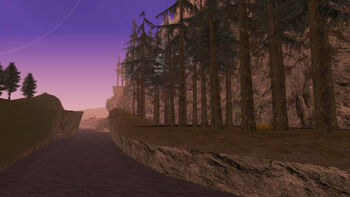 The Whetstone-Flint County Creek is an unnamed creek that separates Whetstone and San Fierro from Flint County in Grand Theft Auto: San Andreas.
Description
The creek consists of two parts, the main stream itself and the West Fork Creek that dead ends behind the abandoned shack in the center of Shady Creeks. The creek runs through an area that has been the subject of many myths such as Bigfoot.
West Fork Creek
This creek has a delta, dividing Whetstone and Flint County. The creek contains two fords although only the northernmost crossing is submerged to some extent, with the southernmost one effectively creating a lake with the southern portion of the creek. This stream dead ends approximately 89 paces behind the Shady Cabin.
Gallery
Community content is available under
CC-BY-SA
unless otherwise noted.