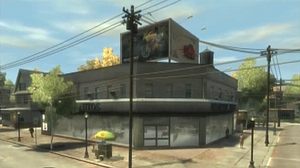 Westdyke Autos is a motorbike dealership located on Lemhi Street & Sacramento Avenue in Westdyke, Alderney. Inside, there are numerous NRG 900 variants; the RR and the F. The player can enter the building during the day and steal a motorbike. Although the dealership is closed at night, the player can still enter it by breaking the windows. Stealing any of the bikes will earn the player a 1-star wanted level. It is one of the four dealerships in Grand Theft Auto IV, the others being Grotti in Algonquin, Liberty City, along with Auto Eroticar and Big Paulie Budget Cars in Alderney.
Trivia
Gallery
Community content is available under
CC-BY-SA
unless otherwise noted.