New Pokemon Games - The Loop
Play Sound
"
The mouthpiece through which simultaneous moral outrage and cultural hedonism gets funneled into the living rooms of the American people.
"
— Description at Bawsaq.com.
Weazel Television Network (BAWSAQ: WZL) is a television network in both the 3D Universe and HD Universe of the Grand Theft Auto series. The player can buy their stocks from the Bawsaq.com website in Grand Theft Auto V.
Description
Originally referenced briefly during radio advertising as the broadcaster of various fictional television shows, Weazel is expanded in Grand Theft Auto IV into a complete television network, including Weazel News. Weazel is a parody of U.S. TV network Fox Broadcasting Company.
The station was originally spelled Weasel in GTA Liberty City Stories (the station's name does not appear in written form in GTA Vice City or GTA San Andreas), changing to Weazel in the HD Universe. The station has its own building in Los Santos in Grand Theft Auto V.
Channel 15
Channel 15 is a television channel affiliated to Weazel. Little is known about the channel, though it is known that Natalie Vanet is an undercover investigator working for the channel. Melanie Mallard also seems to be a TV reporter working for Channel 15.
The channel cannot be viewed on any of the protagonists' television.
Slogan/Motto
Programs
3D Universe
Grand Theft Auto IV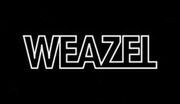 Viewable
Mentioned
Ether
How To Survive When There is A Suitcase Nuke On Your Train
Vacation Home Sluts
Terror Marathon
Weazel News (GTA IV, Episodes From Liberty City and GTA Chinatown Wars)
Homo Erectus
Undertaker (The Ballad of Gay Tony)
Advertisements
Grand Theft Auto V and Grand Theft Auto Online
Viewable
Mentioned
Advertisements
Videos
See Also