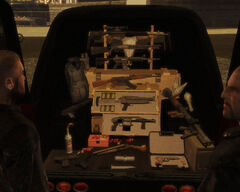 The following is a list of weapons that can be used in The Lost and Damned.
Contents
In The Lost and Damned, the first episode of Downloadable Content for Grand Theft Auto IV, six new weapons are introduced. While the existing weapons can be obtained from Terry's Gun Van, the Underground Gun Shops, and the various spawn points throughout Liberty City, the new weapons can only either be bought from Terry or spawned at either safehouse after completing a certain number of Gang Wars and specific storyline missions.
Imagery Table
NOTE: Click on the images to go to their articles, or hover over the image to reveal the weapon's name.
Melee

Handguns

Submachine Guns

Shotguns

Assault Rifles

Sniper Rifles

Heavy Weapons

Thrown/Misc
Vehicle Weapons
Others
| | | |
| --- | --- | --- |
| | This article or section is Under Construction. | |
These weapons are not available for use in the game, but are often depicted in several ways, often in in-game media.
Artworks
In-game
In the mission Was It Worth It?, Jim was being tortured by Ray's goon, who was using a blow torch.
In the same cutscene of the mission above, Jim uses a retractable utility knife or "box cutter" in his tied hands to set himself free and to threaten the goon who was torturing him before. Eventually, Jim cuts the throat of Ray's goon with the same utility knife.
The GTA IV iteration of the Combat Shotgun is seen in Terry's gun van.
See Also
Community content is available under
CC-BY-SA
unless otherwise noted.