This article contains insufficient information and is considered as a Stub. You can help the GTA Wiki by expanding it as much as you can.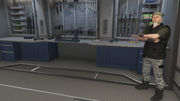 The Weapon Workshop is an optional modification feature in Grand Theft Auto Online, added as part of the Gunrunning update and further updated in the Doomsday Heist Update.
Description
Grand Theft Auto Online
It is a workshop dedicated to weapons customization, operated by the Weapon Mechanic. It can be added by optional upgrade to the appropriate cargo bay in either the Mobile Operations Center the Avenger or the Terrorbyte.
The Weapon Workshop basically consists of a long workbench with several tools on the wall, with a Heavy Sniper in the middle on a weapon vice presumably undergoing the customization process. Racks of weapons and ammunition are shown on the wall to the left and right of the tool rack in the middle.
Customization
Grand Theft Auto Online
Selected weapons can be upgraded into Mk II variants, which offer an array of customizations not present on their standard models, including ammo types, unique attachments and aesthetic options (liveries and colors).
Gunrunning weapon upgrades unlocked by the corresponding research can be applied here. The same applies to the ones added in the Doomsday Heist Update, except unique options.
Restocking any special MKII ammunition (incendiary, FMJ, Armor Peircing, Explosive, and Hollow Point) requires a visit to the workshop while normal MKII Ammunition can be bought from the interaction menu.
| Weapon | Price | Upgraded to |
| --- | --- | --- |
| Pistol | $73,750 | Pistol Mk II |
| SNS Pistol | $79,575 | SNS Pistol Mk II |
| Heavy Revolver | $99,000 | Heavy Revolver Mk II |
| Pump Shotgun | $82,500 | Pump Shotgun Mk II |
| SMG | $85,500 | SMG Mk II |
| Assault Rifle | $98,750 | Assault Rifle Mk II |
| Carbine Rifle | $107,500 | Carbine Rifle Mk II |
| Bullpup Rifle | $105,750 | Bullpup Rifle Mk II |
| Special Carbine | $135,000 | Special Carbine Mk II |
| Combat MG | $119,000 | Combat MG Mk II |
| Marksman Rifle | $149,000 | Marksman Rifle Mk II |
| Heavy Sniper | $165,375 | Heavy Sniper Mk II |
Community content is available under
CC-BY-SA
unless otherwise noted.