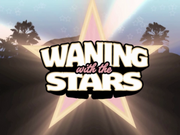 Waning with the Stars is a reality show appearing on Weazel in Grand Theft Auto IV; however, it is not a viewable program. It seems to be a conglomeration of several celebrity-centric reality shows, such as The Surreal Life, The Celebrity Apprentice and Dancing with the Stars, as WWTS features several past-their-prime celebrities competing against one another but is mostly based on the Celebrity Rehab. The celebrities are paired with regular people and the teams compete against one another by doing the celebrities' vice(s).
Known Contestants
Cherise McCormic, '80s sitcom star
The Grinder, former professional wrestler
Trent Thompson
Community content is available under
CC-BY-SA
unless otherwise noted.