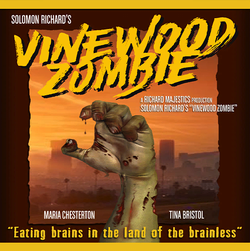 Vinewood Zombie is a classic Vinewood film featured in Grand Theft Auto V. It was produced in 1981 by Richards Majestic Productions.
Synopsis
"Eating brains in the land of the brainless"
Voted worst movie of 1981. Vinewood Zombies is so awful that it's awesome.
The premise: Pop music has awoken the dead and they're waging war on Vinewood.
The stars: A cast of blonde, beautiful (and presumably very cheap) unknowns who always seem to get attacked by zombies while topless.
The twist: Zombies are hungry for flesh but hate the taste of silicone. So who can save the day? Porn stars with enormous fake breasts. Genius.
Nobody knows quite why this steaming Solomon Richards turd has floated for so long in the toilet bowl of popular culture. Maybe it taps into the common fantasy we all have of subjecting the residents of Rockford Hills to the most horrendous deaths imaginable. Or maybe we just never tire of seeing sluts in bikinis splatter brains on the sidewalk...
yelloweyes - "This has to be some of the lowest budget gore in horror movie history. Couldn't they even afford ketchup?" - 3/10 stars
seltzersnorta - "Any heterosexual geek who doesn't love this movie is neither a heterosexual nor a geek." - 8/10 stars
pusfangirl - "49th minute when the red headed chick explodes that zombie on Marlowe Drive and says "How's that for a blow-job?". Unbeatable." - 9/10 stars
piddleclassnerd - "Tits and zombies. Nobody can say Solomon Richards doesn't know his audience." - 7/10 stars
Clothing
In the Freemode Events Update for Grand Theft Auto Online, a Vinewood Zombie T-Shirt was obtainable if the players logged on GTA Online during September 18th, 2015[1].
There is also another, more detailed, shirt that was available to people who watched the Halloween Surprise livestream[2]. Currently, only 10 normal players own the shirt, but according to Rockstar, more of the shirts will be given out during future livestreams. This was also the introduction of the GTA Online T-Shirt Cannon feature.
Trivia
References
Community content is available under
CC-BY-SA
unless otherwise noted.