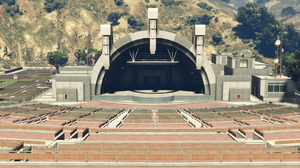 The Vinewood Bowl is an amphitheater in Grand Theft Auto V located in Vinewood Hills, Los Santos beneath the iconic Vinewood Sign. It is accessed from Vinewood Park Drive and Fenwell Place. It appears to be a popular concert venue, and it is also one of the locations where the reality show "Fame or Shame" is filmed.
The Vinewood Bowl is based on the Hollywood Bowl of Los Angeles. Like its real life conterpart, the "bowl" refers to the shape of the concave hillside the theater is carved into. The venue also includes a big parking lot and a coffee store called Vinewood Café.
Featured Shows
Anguished Cornhole
BBQ Spaceflight
Gallery
See Also
Community content is available under
CC-BY-SA
unless otherwise noted.