"If you're a non selective victim, then Victim is the store for you. A wonderful retail house, where people can enhance their self-worth thanks to a huge array of fashion designer apparel."
―GTA San Andreas Website.
VC TM, formerly known as Victim, is a trendy chain of clothing stores first introduced in Grand Theft Auto: San Andreas.
Description
Grand Theft Auto: San Andreas
Unlocked after completing "Learning to Fly", Victim is a intended to serve as a middle-to-high end clothing retailer specialized in offering the latest fashion of popular trends (e.g. OG Loc and Madd Dogg merchandise), a notch lower from Didier Sachs' luxurious clothing line. Victim's San Andreas operations encompasses three outlets in all three cities in the state. Several characters also wear re-textured Victim clothing, as shown with Claude and the San Andreas Bikers.
Grand Theft Auto IV
The brand is featured on the websites for Peepthatshit.com and Designerslave.com, where it is a brand that is described as selling modern urbanized clothing of older trends. Although both websites mention that the store is a department store and is located in Suffolk, Algonquin, no signage can be found within the areas. However, VC TM is one of the brands featured on the Go Out store found in East Island City.
Influence
The brand is based on Volcom, an urban brand that became popular within the early 1990s. The name-sake of the brand is most likely from the term "Fashion victim", a term referring to a person obsessed with fashion trends and labels.
Locations
GTA San Andreas
Clothing in GTA San Andreas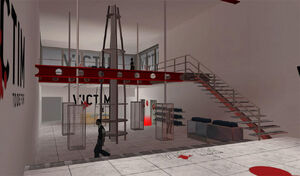 Victim primarily offers designer casualwear of middle upper class taste as well as a basic selection of two suits (two black and grey jackets and pants, each with a white collarless undershirt). Appropriately, many of these outfits are priced relatively high at over $200, although basic articles of clothing (like branded T-Shirts and baseball caps) may retail at less than $100.
A biker clothing set (which includes a leather jacket top and two different types of leather-tailored pants) is also available at Victim.
For a comprehensive list of clothing available from Victim in GTA San Andreas, see /Clothing in GTA San Andreas.
Community content is available under
CC-BY-SA
unless otherwise noted.