"
The famous Vespucci Canals were built at the turn of the century in a desperate attempt to bring some semblance of European culture to the western United States.
"
— GTA V Manual
The Vespucci Canals are a series of waterways located in the district of Vespucci, Los Santos in Grand Theft Auto V and Grand Theft Auto Online. The Vespucci Canals are made up of several residential homes built on small islands surrounded by water. The neighbourhood is not very large but is affluent.
Description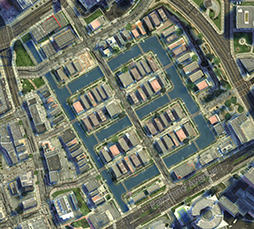 The Vespucci Canals are home to many wealthy people who want to live near the beach. The houses are not as upscale as those in places such as Rockford Hills, instead they're more focused on the stunning views the area has to offer. The canals themselves aren't very deep, so people are able to wade around freely. At both day and night time, the Vespucci Canals are relatively peaceful and quiet, aside from the occasional cars driving through.
All buildings in the canals are for residential use only. The homes closely resemble the quiet two-storey houses found on Del Perro Beach, which include an open-air garage and a large staircase in the back. The canals have no notable layout, being that the entire neighborhood is in the shape of a square. There are two islands sitting inside of the canals. These islands are small strips and contain houses. There are a few narrow roads along the canals; these roads lead out into the rest of Vespucci. In the northern side of the canals, a tunnel connects the waterways to the Pacific Ocean.
Events of GTA V
After Michael De Santa saves his daughter from the pornstars, he heads into the tunnel leading into the Vespucci Canals. There, he manages to kill or knock off the pornstars from their Seasharks, had he not done so before. Michael then takes Tracey back to the beach.
The last of the Hao Street Races begins and ends by the canals.
Prominent Appearances in Missions
Grand Theft Auto V
Grand Theft Auto Online
Influence
The Vespucci Canals are based on the real-life Venice Canals.
Roads and Streets
Businesses
Gallery
Trivia