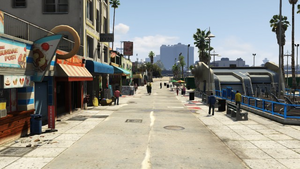 The Vespucci Beach Sidewalk is a promenade that runs parallel to the beach in Vespucci Beach and southern Del Perro, Los Santos, in Grand Theft Auto V.
The east side of the boardwalk is lined with souvenir shops, bars, restaurants, t-shirt vendors, tattoo and piercing stores, skate and surf shops and medical marijuana dispensaries, among other small businesses. The west side has a bike path, rollerskater and skateboard ramps, basketball and tennis courts and workout areas. The iconic Muscle Sands Gym, a Sidewalk Market and the medical marijuana pharmacy Smoke on the Water are also located here.
The sidewalk has connections to Bay City Avenue, Melanoma Street, Goma Street, Palomino Avenue, Vitus Street, Cortes Street, Conquistador Street and Vespucci Boulevard. It is based on the world famous Ocean Front Walk of Venice Beach, Los Angeles.
Properties
Places of Interest
Businesses
B.L. T-shirts
Beach Toys
Canal Treats
Coast Cutters
Coral Reefers Smokeshop
Get Shirty
Great Big Tats
Gyro Day Hot Food (corner of Melanoma Street)
High and Dry
J's T-Shirts
The Pink Palms Beach Shop (corner of Melanoma Street)
The Pizza Goven
Sandy Rings

Shadey Petes Sunglasses
Sharkies Bites (corner of Palomino Avenue)
Shell Out Gift Shop
Shingle Fish
Shore Feet Shoes
Sine Waves
Slice 'N' Dice Pizzeria (corner of Vitus Street)
The Sundae Post (corner of Goma Street)
Swell Party
Vespucchill
Vespucci Hotel
Vespucci Shirts
Vespucci Tattoo
Vespucci Video
Vespuccink (corner of Vitus Street)
Vitamin Seaside
Gallery
Trivia
All the stores except for Vespucci Movie Masks appear to close at around 6 P.M., and open again at around 10 A.M.
Community content is available under
CC-BY-SA
unless otherwise noted.