Fire Emblem Warriors: Three Hopes - The Loop
Play Sound
"
Vespucci is a beach town and all-round freak show where tourists come to take photos of bodybuilders, performance artists and hobos, and to buy medical marijuana. The famous Vespucci Canals were created at the turn of the century in a desperate attempt to bring some semblance of European culture to the western United States.
"
—
GTA V
digital manual
Vespucci is a district in western Los Santos, San Andreas in Grand Theft Auto V and Grand Theft Auto Online. It is served by the Vespucci Police Station.
Description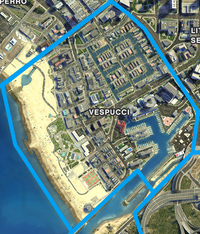 Vespucci is an area more suited towards tourism, resorts, and vacations. Because of this, many stores and hotels are located in Vespucci. The most famous area is the Vespucci Beach Sidewalk, where tourists walking along the beach go to shop for souvenirs, bicycles, and ice cream. When people are tired of walking the beachfront, they sit on the various benches that dot the sidewalk. Vespucci can get very crowded at daytime, especially on the beach.
Vespucci is split into three sub-districts:
Events of Grand Theft Auto V
After Michael De Santa smashes his son's TV, he forces him to go to Vespucci Beach for a peaceful bicycle ride. The two ride along the beachfront before heading onto the Del Perro Pier. It is there that Michael finds out that his daughter was hanging out with pornstars. After Michael kills the pornstars chasing him and Tracey, the two park their Seashark on Vespucci Beach. In Friends Reunited, Trevor Philips moves into Floyd Hebert's Vespucci Condo where he stays until Caida Libre.
Events of Grand Theft Auto Online
In the summer of 2020, the Kkangpae invaded the GTA Online Protagonist's Galaxy Super Yacht and stole documents classifying the protagonist and captain Brendan Darcy as "permanent residents of international waters", as well as the yacht's jetskis. The protagonist locates the thieves in the Vespucci Canals, kills them and retrieves the documents. Brendan informs the protagonist that they were part of the Puerto Del Sol Yacht Club, so as revenge, Brendan requests that the protagonist head to the yacht club and sink their boats. The protagonist destroys and sinks the boats belonging to the Kkangpae boss, who tracks down the protagonist's phone and constantly threats them and issues a bounty on their heads. Eventually, the GTA Online Protagonist tracks down and kills the Kkangpae boss.
On November 19, 2020, a corpse and a briefcase appeared on the southwest coast of Los Santos at a random location ranging from Vespucci Beach to Los Santos International Airport.
Influence
The neighborhood is mostly based on Venice, California.  The southernmost region (Puerto Del Sol) is based on the unincorporated community of Marina del Rey, California.
Notable Residents
Roads and Streets
Places of Interest
Businesses
Collectibles
Trivia
Gallery