Welcome

Hello, ZIGGY FOOLZ, and welcome to the GTA Wiki, the wiki about the Grand Theft Auto series that anyone can edit! Thank you for your contributions! We hope you will stick around the wiki and do even more!
Are you new to editing? Please visit Help:Editing and the Manual of Style to learn on how to edit on this wiki and other wikis you will come across, and the Help pages to know everything about Wikia.
Also, do not forget to edit your personal user page that you can edit to add anything you want, and tell us about yourself!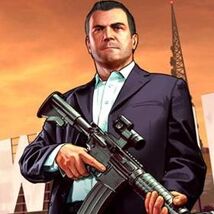 Here are some links that you may find helpful:
If you need help or if you have any problems, ask me on my talk page, or you may contact our Staff. The Patrollers are highlighted in orange, the Administrators are highlighted in blue and the Bureaucrats are highlighted in green.
We hope you enjoy editing here, and look forward to seeing you around!
LS11sVaultBoy (talk) 12:28, November 1, 2015 (UTC)
Re:Chef
Of course, if you find some relevant source (especially a video confirming his real name), you're more than welcome to edit it again ;). Until then, it's better to leave the page untouched to avoid any edit wars ok? Thegtaseeker96 (talk) 13:13, November 1, 2015 (UTC)
Re: Re:Chef
Thank you for the verification I will get some source material together as soon as I can, I appreciate the assistance. XxAuzzieArmyxX (talk) 13:22, November 1, 2015 (UTC)
When you get that, please post the source on the Chef's talk page first so other users can see it and become aware of your edits to the page. Thegtaseeker96 (talk) 13:35, November 1, 2015 (UTC)
Community content is available under
CC-BY-SA
unless otherwise noted.