Welcome

Hello, WinterMagnet, and welcome to the GTA Wiki, the wiki about the Grand Theft Auto series that anyone can edit! Thank you for your contributions! We hope you will stick around the wiki and do even more!
Are you new to editing? Please visit Help:Editing and the Manual of Style to learn on how to edit on this wiki and other wikis you will come across, and the Help pages to know everything about Wikia.
Also, do not forget to edit your personal user page that you can edit to add anything you want, and tell us about yourself!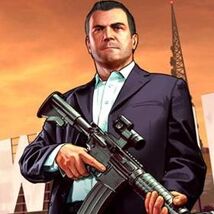 Here are some links that you may find helpful:
If you need help or if you have any problems, ask me on my talk page, or you may contact our Staff. The Patrollers are highlighted in orange, the Administrators are highlighted in blue and the Bureaucrats are highlighted in green.
We hope you enjoy editing here, and look forward to seeing you around!
LS11sVaultBoy (talk) 02:13, January 6, 2015 (UTC)
RE:
Just so you know, this "crashed Glendale" (that we commonly call Beater Glendale) spawns across all of San Andreas, always with the same paintjob (i.e. Big Smoke's). But that's not enough to find a connection there with Big Smoke. It would be unlikely for him to hide in a bar in Bone County while he is in LS with full Ballas protection and connections with Tenpenny.

Rain - Talk
12:44, January 6, 2015 (UTC)
Images
Please re-upload your images with new names and correct licences in accordance with the Image policy, The files you just over-wrote have been restored to their prior version as they are already in use on other pages and your new images are unrelated to those subjects. Thanks.  smurfy (coms) 12:46, January 25, 2015 (UTC)
If you need help understanding how to comply with the policy, there is something of a tutorial available here. smurfy (coms) 13:00, January 25, 2015 (UTC)
Better names, still lacking licenses. See the tutorial for instructions to add those.  smurfy (coms) 13:05, January 25, 2015 (UTC)
Hi MY Friend I Like GTA:SA toBill De Santa (talk) 14:42, February 9, 2015 (UTC)
Vote
With regards to your blog post, if you want to create a vote a better place would be the Community Noticeboard, as more people can see it there. Should you create a vote, however, it should be worded in a way that can only have a "Yes/No" answer. I hope this helps. SJWalker (talk) 19:50, April 2, 2015 (UTC)
Buffalo
Left a message for you in the Talk page for the Buffalo page about why i undid your edit to the Buffalo page.TevanoRCMP (talk) 14:08, April 23, 2015 (UTC)
Quotes
With regards to quotes on characters' pages, the quote should be one befitting of their character. The quote you added to Big Smoke's page, whilst amusing, was not representative of his character. SJWalker (talk) 14:25, April 28, 2015 (UTC)
Uranus
What!? How the hell does that even relate the Ferraris or Super GTs!? You're lucky I didn't count that as vandalism.

•

•
09:31, October 28, 2015 (UTC)
HP
And on what basis are you working out the HP? If you're using the real life counterpart HP's, that's not allowed. That's not in-game evidence or data, so it doesn't necessarily mean the car in the game will have the HP the real life counterpart has. Monk Talk 16:40, November 20, 2015 (UTC)
Community content is available under
CC-BY-SA
unless otherwise noted.