Welcome

Hello, TheF3nt0n, and welcome to the GTA Wiki, the wiki about the Grand Theft Auto series that anyone can edit! Thank you for your contributions! We hope you will stick around the wiki and do even more!
Are you new to editing? Please visit Help:Editing and the Manual of Style to learn on how to edit on this wiki and other wikis you will come across, and the Help pages to know everything about Wikia.
Also, do not forget to edit your personal user page that you can edit to add anything you want, and tell us about yourself!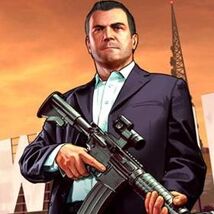 Here are some links that you may find helpful:
If you need help or if you have any problems, ask me on my talk page, or you may contact our Staff. The Patrollers are highlighted in orange, the Administrators are highlighted in blue and the Bureaucrats are highlighted in green.
We hope you enjoy editing here, and look forward to seeing you around!
Ultimate94ninja (talk) 16:17, July 26, 2018 (UTC)
Promotion
Congratulations on your promotion my friend. Welcome to the team, if you need any help just let me or any other staff know and we'll be happy to help. Take care. Sam Talk 10:26, November 25, 2018 (UTC)
Merry Christmas and Happy New Year!
Wishing all Staff members a late Merry Christmas and a Happy and Prosperous New Year! My apologies for the late greetings, I took a break from editing during the holiday period.
TAlim 1994 - Konan T-A Lim 林道安 (talk | contributions) 02:44, January 5, 2019 (UTC)
Request for Promotion
Good day, I have made a Request for Promotion to the position of Bureaucrat. Please vote and/or comment when you are available. This message was sent to all Staff members.
TAlim 1994 - Konan T-A Lim 林道安 (talk | contributions) 09:40, January 16, 2019 (UTC)
RE: LCS Phil Cassidy
Thanks for clarifying (oh well, that animation was familiar). Ok I'll knock this one to the talk page for reference since there we barely get to see his face in LCS. Ultimate94ninja talk · contribs 22:36, March 11, 2019 (UTC)
Accidental Toestepping
Sorry, I actioned the 2nd image upload with a deletion and rollback and then went back and did the same to the first one without realising it was 20 minutes earlier so didn't check the talk page and see you had already issued an "ImageLicence" reminder for that one.  Sorry about that. Smurfy: illuminate - communicate - spectate 08:42, March 16, 2019 (UTC)
I just have a question for you
Why is GTA Online being taken into consideration, especially when it comes to certain characters being alive or deceased? I don't even think it's canon. (Michael from GTA V (talk) 12:54, December 5, 2019 (UTC)Michael from GTA V)
Community content is available under
CC-BY-SA
unless otherwise noted.