Welcome
Hi, welcome to GTA Wiki. Thanks for contributing to the Mrs. Dawson page, and for taking interest in the wiki. Please leave a message on my talk page if I can help with anything, or as alternatives, leave a post on a forum, or refer to the Help pages. -- McJeff (Talk) 03:07, August 13, 2012
Mrs. Dawson
You put too much information on that. Some of the infoarmation is NOT needed. The idea that Tommy killed Leo and took his role as Black's hitman can be included, it can be written shorter. You should also work a bit on your grammar and writing tense. You don't have to describe the WHOLE mission (for that we have the page of the mission itself). As she is only a minor character, you don't have to tell the whole event, only the major part. -- ILan (XD • Edits • Home ) 13:14, August 14, 2012 (UTC)
Sure, I still edit the article to fix this. Anyway, forgive me for possible flaws in grammar, I have to improve my English. But I do not think the article got a lot of information, because even if you have this same information in other articles, it is best to include them just because that is a minor character and do not have much to say about it. I believe we should only summarize the articles for major characters.T-002 (talk) 20:16, August 14, 2012 (UTC)
RE:Claude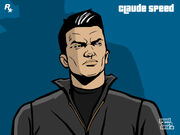 Rockstar never confirmed that the two "Claudes" from the different games are the same person. The artwork you're taking about is an early piece of work made for the game, indicating that R* possibly thought on making GTA2 and GTA3 story-related.
Unless R* will confirmed the two Claudes are the same person, we will keep their pages seperated. -- ILan (XD • Edits • Home ) 07:00, September 23, 2012 (UTC)
Images Licensing/Naming
We kindly ask all of our contributors to please properly name and/or license all images that you upload to the wiki. Image licensing and naming is part of our official Media Policy, and as such, it is asked of all users to respect the policy and add a proper name & license when uploading as described here.

Licenses
Whenever you upload an image to the wiki, towards the bottom of the page there is an option to add a license.

For images that are game screenshots, use the appropriate Screenshots & in-game logos.
For non-game screenshots (pictures taken from the web etc.), select This image is used under Fair Use.
For images that are not licensed, e.g. images you have created from scratch yourself, select This is in the Public Domain.

Names
As a general rule of thumb, image names should follow the following pattern:

"PageSubjectName-GTAgame-OptionalDescription.png"

The name can be modified in the bar right above the "add license" option when you are uploading it, and must match with the Media Policy (a table of correct names can be seen here).


What you should do now
Because your recent upload was non-compliant, you are now expected to take steps to fix the issues with your file(s). There is a detailed tutorial on how to do this here.

If you have any questions about the policy, please use the dedicated section, or if you need assistance fixing your files, please contact me on my talk page or that of any other staff member.

Ignoring this message can lead to the file(s) you uploaded being deleted and possibly to a block if you continue to ignore the policy on subsequent uploads. For more information on licensing and copyright, see here.

Thank you!


Kiwismurf
Smurfy:
illuminate
-
communicate
-
spectate
23:57, January 29, 2018 (UTC)
Image Deletion
Dear T-002, at least one of your recent images was deleted, as it was violating all aspects of the Media Policy. Please ensure you stick to our Media Policy when uploading files to the GTA Wiki.

Deletion statement: Invalid name and no licence immediately after I had given you the above reminder. Further invalid uploads will be deleted and could result in a a warning or block.

Please contact me if you have any problems. Thank you!
Smurfy:
illuminate
-
communicate
-
spectate
01:24, January 30, 2018 (UTC)
Infobox images on character articles
Full-body captures of characters are not necessary for the infobox. You may add them to the gallery as a separate file, but the infobox is meant to be a clear capture of a character's upper body/head. Monk Talk 15:55, October 12, 2019 (UTC)
Community content is available under
CC-BY-SA
unless otherwise noted.