Welcome

Hello, Swordsplay83, and welcome to the GTA Wiki, the wiki about the Grand Theft Auto series that anyone can edit! Thank you for your contributions! We hope you will stick around the wiki and do even more!
Are you new to editing? Please visit Help:Editing and the Manual of Style to learn on how to edit on this wiki and other wikis you will come across, and the Help pages to know everything about Wikia.
Also, do not forget to edit your personal user page that you can edit to add anything you want, and tell us about yourself!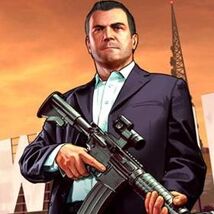 Here are some links that you may find helpful:
If you need help or if you have any problems, ask me on my talk page, or you may contact our Staff. The Patrollers are highlighted in orange, the Administrators are highlighted in blue and the Bureaucrats are highlighted in green.
We hope you enjoy editing here, and look forward to seeing you around!
LS11sVaultBoy (talk) 02:42, July 23, 2015 (UTC)
The Hen House
There is actually no evidence to support calling it a Strip Club. It obviously conducts some form of "adult entertainment" judging by the XXX in the logo and the manager's description of "gentleman's club", however there is no mention of actual strippers. So, no, I will not revert it. Smurfynz (talk) 06:18, July 23, 2015 (UTC)
Claiming the Hen House is a strip club is about as valid as claiming Bahama Mamma's is one based on its logo or the Lust Resort is one based on its name and the lighting on the building. Hen House is labelled and marketed as a Bar & Nightclub in the game, so that's what we have to call it. Smurfynz 21:10, July 23, 2015 (UTC)
Warning
You have been warned for violating the policy. If you repeat your actions, you will be issued with a block.


• ­Given reason: Constant edit warring.
• ­Issued by: AndreEagle17 
Community content is available under
CC-BY-SA
unless otherwise noted.