Welcome

Hello, SovietFriends91, and welcome to the GTA Wiki, the wiki about the Grand Theft Auto series that anyone can edit! Thank you for your contributions! We hope you will stick around the wiki and do even more!
Are you new to editing? Please visit Help:Editing and the Manual of Style to learn on how to edit on this wiki and other wikis you will come across, and the Help pages to know everything about Wikia.
Also, do not forget to edit your personal user page that you can edit to add anything you want, and tell us about yourself!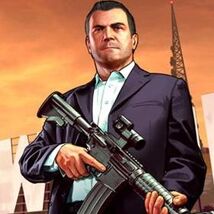 Here are some links that you may find helpful:
Recent Wiki Activity to check out and observe on the edits that are occurring and to help out on pages that need some editing done.
The Community Noticeboard to check out new ideas, updates, and expansions that will be applied to this Wiki. Your own ideas are welcome, too!
The Forums to ask questions about anything or start a discussion about anything.
Your personal user blog, to blog posts about what you think, and that anyone can comment.
Policies & Guidelines, a list of rules for you to follow, and will also help you make better contributions.
Be sure to check out the To-Do List if you ever need something to do. You may also add any sensible work to the list.
GTA Fanon Wiki, the location of GTA fan work. Fanon is not permitted on this wiki.
If you need help or if you have any problems, ask me on my talk page, or you may contact our Staff. The Patrollers are highlighted in orange, the Administrators are highlighted in blue and the Bureaucrats are highlighted in green.
We hope you enjoy editing here, and look forward to seeing you around!
Matrexpingvin (talk) 02:31, May 23, 2020 (UTC)
Re: Russia vs USSR on GTA wiki
Please read the 3rd introductory paragraph on the Russia page. This is why we don't have a page for the USSR, nor do we have any need for a flag for the USSR. Also, your edit to Dimitri was invalid: please look at his birthplace as stated in the game in the LCPD Database. The game developers clearly called it Russia, so we must follow suit. Smurfy: illuminate - communicate - spectate 09:23, May 29, 2020 (UTC)
Go find another wiki to troll, you'll find I have very little time/tolerance for nonsense. Smurfy: illuminate - communicate - spectate 09:33, May 29, 2020 (UTC)

Thanks for your message and your recent improved edits.
I completely forgot to come back to this when you messaged me on Community Central. I'm reasonably sure the game dialogue that mentions his military history called it the Red Army, but needed to find it to verify. While in-Universe GTA history mimics real life history in many respects, it doesn't mean it does so 100% accurately all the time. If the devs used the term "Red Army", that is what we must use, regardless of when that term become redundant in the real world. So, no. At this stage you can not change it to Soviet anything. Smurfy: illuminate - communicate - spectate 11:26, July 21, 2020 (UTC)
Community content is available under
CC-BY-SA
unless otherwise noted.