Welcome

Hello, Sinergy26, and welcome to the GTA Wiki, the wiki about the Grand Theft Auto series that anyone can edit! Thank you for your contributions! We hope you will stick around the wiki and do even more!
Are you new to editing? Please visit Help:Editing and the Manual of Style to learn on how to edit on this wiki and other wikis you will come across, and the Help pages to know everything about Wikia.
Also, do not forget to edit your personal user page that you can edit to add anything you want, and tell us about yourself!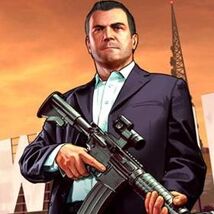 Here are some links that you may find helpful:
If you need help or if you have any problems, ask me on my talk page, or you may contact our Staff. The Patrollers are highlighted in orange, the Administrators are highlighted in blue and the Bureaucrats are highlighted in green.
We hope you enjoy editing here, and look forward to seeing you around!
LS11sVaultBoy (talk) 15:48, October 22, 2016 (UTC)
RE: Help
Let me know if you ever need anything. LS11sVaultBoy (Talk) 17:00, October 22, 2016 (UTC)
I'm not sure why to be honest. LS11sVaultBoy (Talk) 18:21, October 22, 2016 (UTC)
RE: Gameplay Videos
No. We only uploading videos about GTA Missions, DLCs, etc. 
talk • contribs 11:50, October 23, 2016 (UTC)
RE:
This is an English wiki, thus non-English content here is non-fitting. Also, please avoid THE ALL CAPS on my talk page, I'm not sure whether you are trying to be aggressive or not.

Rain - Talk
13:36, October 26, 2016 (UTC)
Re: Regarding a new video that I uploaded
Good day sir/madam. The video that you uploaded featuring the original trailer for Grand Theft Auto: Vice City is good. However, the quality is somewhat low, though still acceptable, so if a higher quality video can be sourced please feel free to replace the current one. By the way, please remember to sign your messages and create a subject header for new topics. If you have any questions or require any assistance, please feel free to contact me or any other Staff member. Thank you.
TAlim 1994 - Konan T-A Lim 林道安 (talk | contributions) 08:53, October 27, 2016 (UTC)
San Fierro
I was the one who originally deleted your edit to the San Fierro page. The reason for this was because "the city of psychedelic wonders" is a phrase said by The Truth. Considering it most likely refers to drugs it is unlikely that a city would adopt this as its official motto. That was why I deleted it, because it is a nickname, not a motto. Sam Talk 16:50, December 15, 2016 (UTC)
Community content is available under
CC-BY-SA
unless otherwise noted.