Welcome to Meesmoth's message wall! Leave me a message below if I can help with anything, and I will try to get back to you as soon as possible. Please note that messages on my wall will be answered by me, unless they are replies.
-Meesmoth
Current status:

Active
Welcome

Hello, ShodaiMeesmothLarva, and welcome to the GTA Wiki, the wiki about the Grand Theft Auto series that anyone can edit! Thank you for your contributions! We hope you will stick around the wiki and do even more!
Are you new to editing? Please visit Help:Editing and the Manual of Style to learn on how to edit on this wiki and other wikis you will come across, and the Help pages to know everything about Wikia.
Also, do not forget to edit your personal user page that you can edit to add anything you want, and tell us about yourself!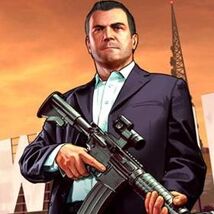 Here are some links that you may find helpful:
If you need help or if you have any problems, ask me on my talk page, or you may contact our Staff. The Patrollers are highlighted in orange, the Administrators are highlighted in blue and the Bureaucrats are highlighted in green.
We hope you enjoy editing here, and look forward to seeing you around!
LS11sVaultBoy (talk) 16:36, October 5, 2015 (UTC)
Block
Hey there. There seems to have been a misunderstanding regarding your block on October 7, 2015. I have unblocked you, as you are entitled to hold multiple accounts as long as you make it clear the account is your successor (which you did), and the account isn't set up to avoid a block (which it wasn't - no history of blocks). Sorry for this inconvenience. Monk Talk 10:11, April 11, 2016 (UTC)
Response
It's okay, no big deal. Meesmoth (talk) 14:38, October 26, 2016 (UTC)
Community content is available under
CC-BY-SA
unless otherwise noted.