Welcome

Hello, Serafin002, and welcome to the GTA Wiki, the wiki about the Grand Theft Auto series that anyone can edit! Thank you for your contributions! We hope you will stick around the wiki and do even more!
Are you new to editing? Please visit Help:Editing and the Manual of Style to learn on how to edit on this wiki and other wikis you will come across, and the Help pages to know everything about Wikia.
Also, do not forget to edit your personal user page that you can edit to add anything you want, and tell us about yourself!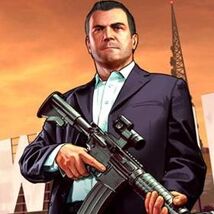 Here are some links that you may find helpful:
If you need help or if you have any problems, ask me on my talk page, or you may contact our Staff. The Patrollers are highlighted in orange, the Administrators are highlighted in blue and the Bureaucrats are highlighted in green.
We hope you enjoy editing here, and look forward to seeing you around!
Ultimate94ninja (talk) 17:22, September 10, 2018 (UTC)
Images Licensing/Naming
We kindly ask all of our contributors to please properly name and/or license all images that you upload to the wiki. Image licensing and naming is part of our official Media Policy, and as such, it is asked of all users to respect the policy and add a proper name & license when uploading as described here.

Licenses
Whenever you upload an image to the wiki, towards the bottom of the page there is an option to add a license.

For images that are game screenshots, use the appropriate Screenshots & in-game logos.
For non-game screenshots (pictures taken from the web etc.), select This image is used under Fair Use.
For images that are not licensed, e.g. images you have created from scratch yourself, select This is in the Public Domain.

Names
As a general rule of thumb, image names should follow the following pattern:

"PageSubjectName-GTAgame-OptionalDescription.png"

The name can be modified in the bar right above the "add license" option when you are uploading it, and must match with the Media Policy (a table of correct names can be seen here).


What you should do now
Because your recent upload was non-compliant, you are now expected to take steps to fix the issues with your file(s). There is a detailed tutorial on how to do this here.

If you have any questions about the policy, please use the dedicated section, or if you need assistance fixing your files, please contact me on my talk page or that of any other staff member.

Ignoring this message can lead to the file(s) you uploaded being deleted and possibly to a block if you continue to ignore the policy on subsequent uploads. For more information on licensing and copyright, see here.

Thank you!

kamikatsu_ Talk 13:06, February 1, 2020 (UTC)
No Mod-related content
GTA Wiki only accepts official content. Any information relating to mods, trainers or save editors may not be posted on this Wiki.
Thanks Smurfy: illuminate - communicate - spectate 14:24, April 23, 2020 (UTC)
Hank's Gallery Fix
Hi,
I saw your message on Cam's talk page and took a look at the article and fixed. Issues like that can usually be fixed with a "clr" tag above the section, which will push that section below any floating objects (infoboxes, TOCs, etc.), which you can see in action on the Hank's article. Thanks for the creations of these articles, by the way.

BolbiiS

(Talk ~ Edits) 14:01, May 21, 2020 (UTC)
Thank you for telling me and solving it.
Serafin002 (talk) 14:16, May 21, 2020 (UTC)
Community content is available under
CC-BY-SA
unless otherwise noted.