Welcome

Hello, ReidoraneD, and welcome to the GTA Wiki, the wiki about the Grand Theft Auto series that anyone can edit! Thank you for your contributions! We hope you will stick around the wiki and do even more!
Are you new to editing? Please visit Help:Editing and the Manual of Style to learn on how to edit on this wiki and other wikis you will come across, and the Help pages to know everything about Wikia.
Also, do not forget to edit your personal user page that you can edit to add anything you want, and tell us about yourself!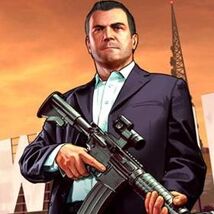 Here are some links that you may find helpful:
If you need help or if you have any problems, ask me on my talk page, or you may contact our Staff. The Patrollers are highlighted in orange, the Administrators are highlighted in blue and the Bureaucrats are highlighted in green.
We hope you enjoy editing here, and look forward to seeing you around!
LS11sVaultBoy (talk) 20:35, June 29, 2016 (UTC)
Your edits
Please stop edit warring over the Mesa article. If you want to argue over its IRL basis use the talk page. Thanks.

Rain - Talk
21:15, July 4, 2016 (UTC)
The Assault Rifle is not an AK12
Here is the Assault Rifle, here is the 56-2, here is the AK12. The AK12 and the Assault Rifle barely even look alike, whether it is the barrel length or the receiver shape. If you disagree, please use the talk page instead of edit warring. Thanks.

Rain - Talk
18:29, October 12, 2016 (UTC)
As an additional note, contrary to your recent claim about the magazines, the in-game "Assault Rifle" has the more curved 7.62x39mm magazine, which is different from the 5.45x39mm mag used for the AK-12.

Ultimate94ninja

talk

·

contribs

21:17, October 12, 2016 (UTC)
Vandalism
Just because you are having an argument over what a gun is based on doesn't give you the right to vandalise someone else's user page, especially a staff's page. This is your first and final warning, you will be blocked if this happens again. LS11sVaultBoy (Talk) 18:49, October 13, 2016 (UTC)
Community content is available under
CC-BY-SA
unless otherwise noted.