Welcome

Hello, Qstlijku, and welcome to the GTA Wiki, the wiki about the Grand Theft Auto series that anyone can edit! Thank you for your contributions! We hope you will stick around the wiki and do even more!
Are you new to editing? Please visit Help:Editing and the Manual of Style to learn on how to edit on this wiki and other wikis you will come across, and the Help pages to know everything about Wikia.
Also, do not forget to edit your personal user page that you can edit to add anything you want, and tell us about yourself!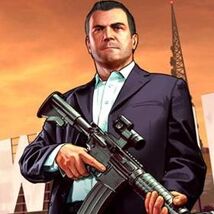 Here are some links that you may find helpful:
If you need help or if you have any problems, ask me on my talk page, or you may contact our Staff. The Patrollers are highlighted in orange, the Administrators are highlighted in blue and the Bureaucrats are highlighted in green.
We hope you enjoy editing here, and look forward to seeing you around!
Leon Davis (talk) 18:00, November 28, 2015 (UTC)
RE: GTA IV mission pages cleanup
I don't have a specific plan, just to generally do them as and when I find them, time permitting. The reason I'm doing it is because this Wiki should be in the third-person and a lot of the walkthroughs are not, and in my opinion can get a bit messy, that's why when I see them I try and replace them with descriptions. Sam Talk 23:00, January 29, 2018 (UTC)
RE:Daily Objectives
Hello. Writing to you here since maybe you won't see the change on Talk Daily Objectives page. What you said about not getting "Nightclub" mentioned in your Sell Counterfeit Cash objective, maybe objective descriptions (Or objectives given) change depending on businesses owned. Do you have a nightclub? Lucio 1995 (talk) 00:52, August 8, 2019 (UTC)
Patroller
Hey, have you considered applying for Patroller? There are several spots available and your activity and general manner makes you suitable for the role. You've been around for a fair while and there hasn't really been any issues in the past. You'd be granted rollback rights, allowing you to quickly revert any vandalism that you may find. It's up to you, you have my support :) Monk Talk 10:15, September 3, 2019 (UTC)
If you do decide to apply, you have my support as well. Matrexpingvin (talk) 07:23, September 5, 2019 (UTC)
Community content is available under
CC-BY-SA
unless otherwise noted.