Welcome

Hello, PunjabiNights, and welcome to the GTA Wiki, the wiki about the Grand Theft Auto series that anyone can edit! Thank you for your contributions! We hope you will stick around the wiki and do even more!
Are you new to editing? Please visit Help:Editing and the Manual of Style to learn on how to edit on this wiki and other wikis you will come across, and the Help pages to know everything about Wikia.
Also, do not forget to edit your personal user page that you can edit to add anything you want, and tell us about yourself!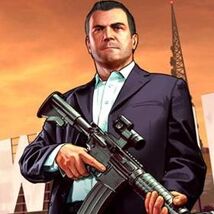 Here are some links that you may find helpful:
If you need help or if you have any problems, ask me on my talk page, or you may contact our Staff. The Patrollers are highlighted in orange, the Administrators are highlighted in blue and the Bureaucrats are highlighted in green.
We hope you enjoy editing here, and look forward to seeing you around!
DocVinewood (talk) 01:50, April 26, 2015 (UTC)
RE:
It is well known around here that Sasquatch and Boomer are close, and they will agree on a lot in votes, especially Requests for Promotion supporting each other. They appear to be close friends and this is backed up by the fact that they work a lot on the GTA Myths Wiki, but Tom's involvement does not seem likely just because they agreed on a vote. Tom can make bureaucratic decisions if he feels there has been an unjust decision, however, he should have brought it up. For now I will not be making any reports to Community Central. I will also argue this case if you bring it up with Community Central. Leo68 (talk) 04:39, April 26, 2015 (UTC)
A discussion has been made to lift the ban on Boomer but it seems unlikely he'll get it lifted. As for Sasquatch, he may be similar to Boomer but I don't think B is a sockpuppet of S or vice versa. Leo68 (talk) 04:46, April 26, 2015 (UTC)
Community content is available under
CC-BY-SA
unless otherwise noted.