Welcome

Hello, Pizzahut16, and welcome to the GTA Wiki, the wiki about the Grand Theft Auto series that anyone can edit! Thank you for your contributions! We hope you will stick around the wiki and do even more!
Are you new to editing? Please visit Help:Editing and the Manual of Style to learn on how to edit on this wiki and other wikis you will come across, and the Help pages to know everything about Wikia.
Also, do not forget to edit your personal user page that you can edit to add anything you want, and tell us about yourself!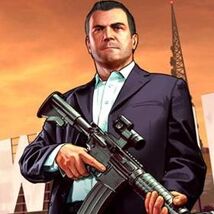 Here are some links that you may find helpful:
If you need help or if you have any problems, ask me on my talk page, or you may contact our Staff. The Patrollers are highlighted in orange, the Administrators are highlighted in blue and the Bureaucrats are highlighted in green.
We hope you enjoy editing here, and look forward to seeing you around!
Ultimate94ninja (talk) 20:15, January 23, 2019 (UTC)
Image Deletion
Dear Pizzahut16, at least one of your recent images was deleted, as it was violating one or more aspects of the GTA Wiki Policy or the Wikia Terms of Use. Please ensure you stick to our Media Policy when uploading files to the GTA Wiki.

Please contact me if you have any problems. Thank you!
DocVinewood
(
talk
) 16:07, January 24, 2019 (UTC)
"Sentinel XS"
Wow. Seems like you discovered Rockstar tricked us by taking a Zion Cabrio and display it as a Sentinel XS. Unfortunately, this is an error from them, so we can't do anything to "replace" it (a similar case happens with the heist variant of the Mule). You can, however, mention this error in the page.
I cannot believe we missed it all this time. XD --
SWAT Cam F


17:32, June 27, 2019 (UTC)
Spelling
One or more recent edits you have made seem to have been to change a term or spelling from UK English to US English or vice versa.


The wiki policy is that we accept both English UK and English US spelling, since the game is developed in the UK and set in the US. We don't need to specify both spellings on any articles, nor do we encourage editors to "correct" any spelling from one correct version to another. Note that vehicle pages are an exception, where spelling is dictated by the in-game country of origin of the vehicle as described on the Vehicles Manual of Style. Please avoid making further "corrections" of this nature.


Thank you.
Tailgater Edit
Excuse me, but what were you trying to do here, exactly? Don't let it happen again. Matrexpingvin (talk) 22:49, September 3, 2019 (UTC)
86% players owned a futo
https://www.youtube.com/watch?v=Tak6CV_tXAg 
watch this. This YouTuber confirms that fact. —Preceding unsigned comment added by Swagfaq69 (talk • contribs) Please remember to sign your talk page messages with ~~~~.
And still, I don't see any confirmation that that statement is 100% correct. And to be quite honest, I think he just made a joke.
P.S.: make a signature of your post by using ~ but four times next time. Pizzahut16 (talk) 17:12, February 4, 2020 (UTC)
Community content is available under
CC-BY-SA
unless otherwise noted.