Welcome

Hello, Jderwikia, and welcome to the GTA Wiki, the wiki about the Grand Theft Auto series that anyone can edit! Thank you for your contributions! We hope you will stick around the wiki and do even more!
Are you new to editing? Please visit Help:Editing and the Manual of Style to learn on how to edit on this wiki and other wikis you will come across, and the Help pages to know everything about Wikia.
Also, do not forget to edit your personal user page that you can edit to add anything you want, and tell us about yourself!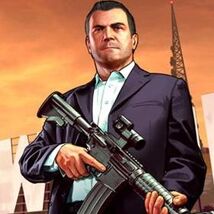 Here are some links that you may find helpful:
Recent Wiki Activity to check out and observe on the edits that are occurring and to help out on pages that need some editing done.
The Community Noticeboard to check out new ideas, updates, and expansions that will be applied to this Wiki. Your own ideas are welcome, too!
The Forums to ask questions about anything or start a discussion about anything.
Your personal user blog, to blog posts about what you think, and that anyone can comment.
Policies & Guidelines, a list of rules for you to follow, and will also help you make better contributions.
Be sure to check out the To-Do List if you ever need something to do. You may also add any sensible work to the list.
GTA Fanon Wiki, the location of GTA fan work. Fanon is not permitted on this wiki.
If you need help or if you have any problems, ask me on my talk page, or you may contact our Staff. The Patrollers are highlighted in orange, the Administrators are highlighted in blue and the Bureaucrats are highlighted in green.
We hope you enjoy editing here, and look forward to seeing you around!
Camilo Flores (talk) 23:27, November 23, 2019 (UTC)
Warning
Smurfy: illuminate - communicate - spectate 07:41, December 23, 2019 (UTC)
Have you even bothered to read the Trivia Policy (linked above)? The Spanish wiki may still be happily accepting trivia, but we are not. Most of what you are adding would barely be considered minutiae let alone up to the threshold of trivia, and certainly not at the higher threshold of trivia we would consider allowing to be added when we are actively trying to reduce such "information" on our articles. You saying it is "important" does not make it so. I'm not about to review every one of your edits but I'd estimate about 75% have been reverted by multiple staff and other editors. That should be enough to tell you you are doing something wrong. The warning stands. Keep it up and you'll be blocked from editing the English GTA Wiki. Smurfy: illuminate - communicate - spectate 08:04, December 23, 2019 (UTC)
Block
Smurfy: illuminate - communicate - spectate 20:49, December 23, 2019 (UTC)
Images Licensing/Naming
Smurfy: illuminate - communicate - spectate 07:04, December 27, 2019 (UTC)
Image names
Thank you for paying attention and applying the appropriate screenshot licence to your image of Derrick McCreary's Willard. You need to rename the file to meet our naming requirements. It should be named something like Willard-GTA4-DerickMcCreary.png. Thanks. Smurfy: illuminate - communicate - spectate 09:08, December 29, 2019 (UTC)
Block
Smurfy: illuminate - communicate - spectate 01:00, December 30, 2019 (UTC)
Block
You might want to put your head in the water for a bit, perhaps this will do just that. And as for those broken pages you created, I've taken the trouble to not delete them so as to let your effort go in vain, but I hope this can serve as a proper warning of not following a community's rules, despite your apparent history on another fandom. NoirlimeTalk | Contribs 15:22, August 11, 2020 (UTC)
Edit: Change of plans. After properly assessing your creation, a complete rebuild seems the optimal choice, some pages may remain as other users have contributed information in them, though. NoirlimeTalk | Contribs 16:01, August 11, 2020 (UTC)
Community content is available under
CC-BY-SA
unless otherwise noted.