Welcome

Hello, JCC the Alternate Historian, and welcome to the GTA Wiki, the wiki about the Grand Theft Auto series that anyone can edit! Thank you for your contributions! We hope you will stick around the wiki and do even more!
Are you new to editing? Please visit Help:Editing and the Manual of Style to learn on how to edit on this wiki and other wikis you will come across, and the Help pages to know everything about Wikia.
Also, do not forget to edit your personal user page that you can edit to add anything you want, and tell us about yourself!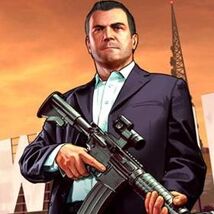 Here are some links that you may find helpful:
If you need help or if you have any problems, ask me on my talk page, or you may contact our Staff. The Patrollers are highlighted in orange, the Administrators are highlighted in blue and the Bureaucrats are highlighted in green.
We hope you enjoy editing here, and look forward to seeing you around!
Ultimate94ninja (talk) 14:35, October 1, 2018 (UTC)
Thanks for the welcome wagon Ultimate94ninja. Sorry for the late reply. I'm proud to be here. --JCC the Alternate Historian (talk) 20:25, October 7, 2018 (UTC)
Flashback FM
I missed your comment on the talk page, thanks for letting me know. I've added the logo. DocVinewood (talk) 14:45, December 21, 2018 (UTC)
Well DocVinwood, thank you for adding the GTA LSC logo of Flashback FM to the article. Don't worry, it's not your fault you didn't see my comment :). It must've just gotten buried by the wiki process with in hours to days after I posted it! We both know how active and busy this wiki is. --JCC the Alternate Historian (talk) 20:30, December 21, 2018 (UTC)
Trailer park
All good, but you got us around the wrong way, User:Kamikatsu added the picture, I added the map and cleaned it up. You're doing pretty good work generally, if you want some more tips for new articles, here are some I prepared earlier. Smurfy: illuminate - communicate - spectate 22:24, March 11, 2019 (UTC)
Sorry about that. My eyes must be playing tricks on me! Anyways, I'll take a look at that. I'll also keep my eyes a look out in case I need your help again with something. Cheers! --JCC the Alternate Historian (talk) 19:30, March 12, 2019 (UTC)
Spelling
One or more recent edits you have made seem to have been to change a term or spelling from UK English to US English or vice versa.


The wiki policy is that we accept both English UK and English US spelling, since the game is developed in the UK and set in the US. We don't need to specify both spellings on any articles, nor do we encourage editors to "correct" any spelling from one correct version to another. Note that vehicle pages are an exception, where spelling is dictated by the in-game country of origin of the vehicle as described on the Vehicles Manual of Style. Please avoid making further "corrections" of this nature.


Thank you.

Kiwismurf
Smurfy: illuminate - communicate - spectate 20:43, March 31, 2019 (UTC)
Sorry about that Kiwismurf. I didn't read the manual before you left this message. Now that I have read it, I'll follow it now. --JCC the Alternate Historian (talk) 17:40, April 2, 2019 (UTC)
Re: Thanks for the Photos
Hey, thanks for the message. I'm glad to have helped out :) I'd also like to say that I applaud the effort you've been putting into fixing up those older LCS / VCS articles. Keep up the good work! SlashM,C 21:27, July 2, 2019 (UTC)
Glad you got the message Slash N Shred. Your welcome about me updating the older and neglected articles from the 3D Universe era games. I'm basically getting the scraps that most other users ignore (I know you guys can't be everywhere). While most users on this wiki edit and update the info on the newer games, I edit and update info on the older games. You should've seen the articles of the North Point Mall and several beta articles before I got a hold of them :). --JCC the Alternate Historian (talk) 17:45, July 4, 2019 (UTC)
Out of Commission For Awhile
Well guys, I have some news I need to share with you. Starting tomorrow, I am going to be what you called "Out of Commission" for a few days to a week. My grandmother is going into surgery and I'll be away from her computer where I do my editing here on the Grand Theft Auto Wiki, the Harry Turtledove Wiki and Wikipedia. I'll hopefully still be editing Wikipedia from my laptop without any problems, but I'm not sure about wikis, so I'll just play it safe and take a vacation from them. Don't worry though, I'll be back eventually. --JCC the Alternate Historian (talk) 22:15, August 21, 2019 (UTC)
Alright guys, I'm back! :) I will get back to editing shortly. --JCC the Alternate Historian (talk) 20:50, September 8, 2019 (UTC)
Beta names
I'd like to point out that spreading unsourced information from the main beta content article to independent articles without first verifying the initial content isn't a great idea. Secondly, I'd like to point out that game file data and model names isn't necessarily always "beta" content, especially when it comes down to generic names like "golfcart", "seaplane", etc...Desperado - fine, that's a completely different name, but a generic name for something that only occurs once in the game (dirtbike is another great example) simply isn't reputable enough to be a valid beta claim. Monk Talk 21:17, October 7, 2019 (UTC)
If you're talking about the sources, you mean links to other sites since those links likely come from other websites. My apologies for the incorrect linking. I though I linked them properly. As for the beta names, hey, it's not my fault that the Beta Vehicles article mentions those names are the beta names. I'm only doing what the article says you know. In short, it's the damn articles fault, not mine! --JCC the Alternate Historian (talk) 17:40, October 9, 2019 (UTC)
Discord
Hey, JCC! I've noticed you've found some articles that require higher quality photos. Do you use Discord by any chance? If yes, would you consider joining the GTA Wiki server and posting a list of photos required in the #todo channel? Communication is way easier there and there's a higher chance someone would take notice to the notices there. SlashM,C 20:25, March 18, 2020 (UTC)
I have no idea what Discord is Slash. I might look into if you can tell me what it is. --JCC the Alternate Historian (talk) 19:50, March 19, 2020 (UTC)
It is a voice and text chat app, allowing for quick and easy communication, sort of something like Skype, except designed with gamers in mind. That's the short description, but Wikipedia's got it covered in detail here. If you'd like to join the wiki server, the invite's available on the right side of pretty much every page, just click on 'connect', create an account, and you're good to go! SlashM,C 19:59, March 19, 2020 (UTC)
Sorry Slash, but I probably won't be able to join. I'm operating on an ancient Windows XP computer from 2004 and I doubt Discord would support this old browser. --JCC the Alternate Historian (talk) 21:50, March 20, 2020 (UTC)
Community content is available under
CC-BY-SA
unless otherwise noted.