Welcome

Hello, Gunshow20, and welcome to the GTA Wiki, the wiki about the Grand Theft Auto series that anyone can edit! Thank you for your contributions! We hope you will stick around the wiki and do even more!
Are you new to editing? Please visit Help:Editing and the Manual of Style to learn on how to edit on this wiki and other wikis you will come across, and the Help pages to know everything about Wikia.
Also, do not forget to edit your personal user page that you can edit to add anything you want, and tell us about yourself!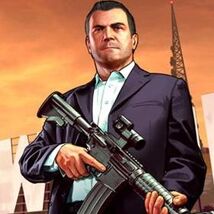 Here are some links that you may find helpful:
Recent Wiki Activity to check out and observe on the edits that are occurring and to help out on pages that need some editing done.
The Community Noticeboard to check out new ideas, updates, and expansions that will be applied to this Wiki. Your own ideas are welcome, too!
The Forums to ask questions about anything or start a discussion about anything.
Your personal user blog, to blog posts about what you think, and that anyone can comment.
Policies & Guidelines, a list of rules for you to follow, and will also help you make better contributions.
Be sure to check out the To-Do List if you ever need something to do. You may also add any sensible work to the list.
GTA Myths Wiki, the location of our myths (we do not allow them on our wiki).
GTA Fanon Wiki, the location of GTA fan work. Again, it is not allowed on this wiki.
If you need help or if you have any problems, ask me on my talk page, or you may contact our Staff. The Patrollers are highlighted in orange, the Administrators are highlighted in blue and the Bureaucrats are highlighted in green.
We hope you enjoy editing here, and look forward to seeing you around!
LS11sVaultBoy (talk) 18:10, March 19, 2016 (UTC)
Instructional Messages
Yeah I'm skeptical about it, I originally created it to replicate what I've now found out are called "Help messages" (see some online articles like Headhunter) for GTA V/Online when I then realised other GTA games kinda have them too. Anything that isn't really an instruction, objective or step in the mission plot but serves as a tip, control feature or in game help. In GTA V, they appear in black transparent boxes at the top left. I think I'll call the section Help Messages instead. Monk (

Bureaucrat) Talk 22:07, June 4, 2018 (UTC)
Yep, basically what I thought. For the pages Nines and AKs and Drive-By, I just didn't include the messages that taught controls (like "use Q and E to look out the window" or whatever for Drive-By) but kept everything else. I just did it because those would be different on every platform but the instructions, for example telling how to get a gun at Emmet's, would be universal regardless. - Gunshow (T, E)
Yeah, unless the controls regard something that is exclusive to that mission, such as Heli cam in V (see Legal Trouble.) Monk ( Bureaucrat) Talk 22:24, June 4, 2018 (UTC)
Question
What Zero said if the plane runs out of fuel or self-destroyed? Gusion Symmetra Zatanna 12:06, July 7, 2020 (UTC)
Community content is available under
CC-BY-SA
unless otherwise noted.