Welcome

Hello, DashieXP is a lad, and welcome to the GTA Wiki, the wiki about the Grand Theft Auto series that anyone can edit! Thank you for your contributions! We hope you will stick around the wiki and do even more!
Are you new to editing? Please visit Help:Editing and the Manual of Style to learn on how to edit on this wiki and other wikis you will come across, and the Help pages to know everything about Wikia.
Also, do not forget to edit your personal user page that you can edit to add anything you want, and tell us about yourself!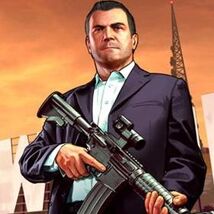 Here are some links that you may find helpful:
Recent Wiki Activity to check out and observe on the edits that are occurring and to help out on pages that need some editing done.
The Community Noticeboard to check out new ideas, updates, and expansions that will be applied to this Wiki. Your own ideas are welcome, too!
The Forums to ask questions about anything or start a discussion about anything.
Your personal user blog, to blog posts about what you think, and that anyone can comment.
Policies & Guidelines, a list of rules for you to follow, and will also help you make better contributions.
If you need help or if you have any problems, ask me on my talk page, or you may contact our Staff. The Patrollers are highlighted in orange, the Administrators are highlighted in blue and the Bureaucrats are highlighted in green.
We hope you enjoy editing here, and look forward to seeing you around!
LS11sVaultBoy (talk) 21:28, April 4, 2015 (UTC)
RE: Edit
I took a look and what seems to have happened is you inadvertently removed all of our language links. It's an easy mistake to make and is easily fixed. There is nothing wrong with your edit. I have put it back on the page. LS11sVaultBoy (Talk) 08:36, April 5, 2015 (UTC) 
The reason your edit was considered vandalism was because on the surface you had removed the vehicle categories and language links. Having looked back, however, and like Tom (VaultBoy) said, it appears it was inadvertent and a simple accident. Apologies for that, I'll remove the vandalism tag. Sorry again. SJWalker (talk) 13:01, April 5, 2015 (UTC)
It's alright, don't sweat it. :-)
DashieXP is a lad (talk) 16:49, April 5, 2015 (UTC)
RE: The Bureau Raid
During "Cleaning Out the Bureau", Haines "promises" to delete Michael's files, and I think that is mentioned on the "COtB" page. If it's not, I don't know how useful the information you found would be for Trivia, as it's not "sky is blue" but is probably not suitable for a Trivia section, though I don't know where else it would go personally.
P.S. In future, you don't need to get a staff member's permission to edit a page, but good looking out by discussing it first :) SJWalker (talk) 22:10, April 5, 2015 (UTC)
Dialogue
Michael's dialogue can be found on this page. The one you created is classed as a duplicate and has been deleted. Leo68 (talk) 22:31, April 5, 2015 (UTC)
Ah, OK... sorry about that, I was unaware that page existed. :S
Fair enough it wasn't mentioned, anyone could think that it needed a page. Also, please remember to sign your talk comments with the four tidles (~) or the signature button. Leo68 (talk) 22:46, April 5, 2015 (UTC)
Community content is available under
CC-BY-SA
unless otherwise noted.