Welcome

Hello, Csnplayer99, and welcome to the GTA Wiki, the wiki about the Grand Theft Auto series that anyone can edit! Thank you for your contributions! We hope you will stick around the wiki and do even more!
Are you new to editing? Please visit Help:Editing and the Manual of Style to learn on how to edit on this wiki and other wikis you will come across, and the Help pages to know everything about Wikia.
Also, do not forget to edit your personal user page that you can edit to add anything you want, and tell us about yourself!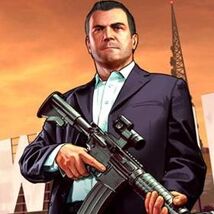 Here are some links that you may find helpful:
If you need help or if you have any problems, ask me on my talk page, or you may contact our Staff. The Patrollers are highlighted in orange, the Administrators are highlighted in blue and the Bureaucrats are highlighted in green.
We hope you enjoy editing here, and look forward to seeing you around!
Ultimate94ninja (talk) 16:38, January 10, 2019 (UTC)
Epsilon program edits
Hi there. Can you hold off making further edits to those pages, it looks like Monk was planning to make some changes last week and may have been interrupted. He removed the (Disambiguation) page causing the deadlinks you were trying to fix, but he may have intended to fix the old redirect page or even merge the 3D and HD Universe articles. Smurfy: illuminate - communicate - spectate 00:50, January 16, 2019 (UTC)
Thanks, I'll let you know the outcome. Also just a small note of appreciation for the quality of your contributions so far, they are appreciated. I assume you must have had experience editing other wikis. Smurfy: illuminate - communicate - spectate 01:01, January 16, 2019 (UTC)
Globe Oil
Could you explain why you thought this was necessary? I had literally just fixed the formatting the galleries and you go ahead and destroy them again? The standard in the gallery is shared with (or should be) all brand articles. There was no need to change it. Not all the captions' livery names were the same. Monk Talk 15:17, March 9, 2019 (UTC)
Okay, I somewhat understand the idea of a separate "Vehicle Sponsoring" section, although I still don't feel it means having its own section on the page, it is, after all, gallery content, multiple galleries each within separate sections on the article seems pointless when you can split a gallery section itself down into multiple areas of content. I still do not agree with or accept the caption changes you made. The captions are simply not specific or descriptive enough for new readers, especially when considering that some vehicles' liveries are pre-fitted, while some (most) can be added on. It seems far more logical and consistent to repeat the livery names within the caption, rather than have only the ones that aren't named after the article/company itself. Monk Talk 16:06, March 9, 2019 (UTC)
Community content is available under
CC-BY-SA
unless otherwise noted.