Welcome

Hello, Bestgamerever, and welcome to the GTA Wiki, the wiki about the Grand Theft Auto series that anyone can edit! Thank you for your contributions! We hope you will stick around the wiki and do even more!
Are you new to editing? Please visit Help:Editing and the Manual of Style to learn on how to edit on this wiki and other wikis you will come across, and the Help pages to know everything about Wikia.
Also, do not forget to edit your personal user page that you can edit to add anything you want, and tell us about yourself!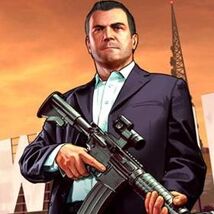 Here are some links that you may find helpful:
If you need help or if you have any problems, ask me on my talk page, or you may contact our Staff. The Patrollers are highlighted in orange, the Administrators are highlighted in blue and the Bureaucrats are highlighted in green.
We hope you enjoy editing here, and look forward to seeing you around!
Ultimate94ninja (talk) 09:42, August 16, 2017 (UTC)
Warning
You have been warned for violating the policy. If you repeat your actions, you will be issued with a block.


• ­Given reason: Edit warring
• ­Issued by: kiwismurf
Sam sites and non-interactive props are not weapon pickups. Stop adding them to that section of Area 69 article. Smurfy: illuminate - communicate - spectate 18:58, October 29, 2017 (UTC)
Because the corresponding list is for vehicles that have usable weapons, something that the Launch does not (just a static MG on the rear end, as stated in the Trivia section). --
SWAT Cam F


20:21, December 3, 2017 (UTC)
Admin question
Please see the GTA Wiki:Staff page for information about the requirements and procedures to become a Patroller, Administrator or Bureaucrat on GTAWiki. So, no, you can't be an admin right away, but you may apply to become a patroller if you want to (Note: this is not an endorsement of your chances of success in a patroller vote). Smurfy: illuminate - communicate - spectate 19:17, January 31, 2018 (UTC)
Community content is available under
CC-BY-SA
unless otherwise noted.