Welcome to my Talk Page. Mild language only allowed on the page. Please, PLEASE refrain from sassing and... If I see a insulting word, I'd have it completely cut, removed and/or reported. Talk about anything and I mean EVERYTHING, trust me. Thank you for actually reading this,
Aginnon 
Welcome

Hello, Aginnon, and welcome to the GTA Wiki, the wiki about the Grand Theft Auto series that anyone can edit! Thank you for your contributions! We hope you will stick around the wiki and do even more!
Are you new to editing? Please visit Help:Editing and the Manual of Style to learn on how to edit on this wiki and other wikis you will come across, and the Help pages to know everything about Wikia.
Also, do not forget to edit your personal user page that you can edit to add anything you want, and tell us about yourself!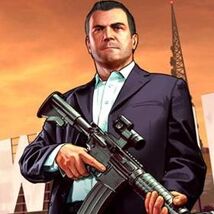 Here are some links that you may find helpful:
If you need help or if you have any problems, ask me on my talk page, or you may contact our Staff. The Patrollers are highlighted in orange, the Administrators are highlighted in blue and the Bureaucrats are highlighted in green.
We hope you enjoy editing here, and look forward to seeing you around!
LS11sVaultBoy (talk) 16:24, July 21, 2015 (UTC)
RE
First, I didn't "screw up" your edits, I deleted them outright. Second, you've added content about RL game consoles, which in my opinion had nothing to do with GTA games at all. Not to mention that you've added that kind of information in the wrong place (just below the title, messing up the whole page). That's why I just REMOVED your edits instead of fixing them up. Thegtaseeker96 (talk) 18:44, October 31, 2015 (UTC)
Warning
You have been warned for violating the policy. If you repeat your actions, you will be issued with a block.


• ­Given reason: Rude, intimidating, discrimination behavior in chat, taking into consideration past events which have slipped my mind.
• ­Issued by: Monk Talk 19:42, November 12, 2017 (UTC)

Monk Talk 17:02, November 29, 2015 (UTC)
Greetings
Hello Adam, how are you? I have not seen you in the Chat or editing here for some time, and I just wish to extend a friendly greeting, and ask whether you will still be editing here. By the way, I wish you a very late Merry Christmas and Happy New Year!
TAlim 1994 - Konan T-A Lim (talk | contributions) 13:38, January 27, 2016 (UTC)
Community content is available under
CC-BY-SA
unless otherwise noted.