---
Welcome to the GTA Wiki Weekly News!
---
In the GTA Series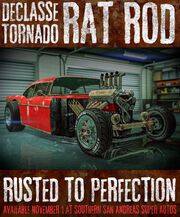 The latest continuation to Bikers this week saw the arrival of the Tornado Rat Rod - a rod conversion of the Tornado - buy now from Southern San Andreas Super Autos for $375,000!
See the latest #REPOSTS of the Tornado Rat Rod from Rockstar Games. (more news here)
This week's Premium Stunt Race is: Stunt - City Air - a turbo-charged adrenaline rush high above Downtown Los Santos. Strap into your Sports class vehicle of choice and receive Triple RP for competing, as well as a sizeable GTA$ payout for finishing in the top 3. Available today through Monday, November 7th.
On an additional side note, reminder that tomorrow (7th November, 2016) is your final opportunity to gain advantage from the 30% discount on selected fan-favorited vehicles. As a reminder, here's a list of the vehicles on this discount:
Players received a $250,000 cash bonus if they played GTA Online by October 31st, 2016. The cash was deposited and fully transacted by November 4, 2016. Didn't receive it? Contact Rockstar on the Rockstar Newswire if you are unsure as to why you didn't receive your transaction!
---
On the Wiki
Firstly, congratulations to GTAFan86 on passing his Patroller probation! With 6 yes votes, 100%, he certainly marked his place well!
Onto user of the week. The user with the most edits this week is....Monkeypolice188, with almost 400 edits! Congratulations to him. MightyDuck01 also contributed well with almost 100 edits, thanks to him too!
Finally, the wiki received a total of 2.0 million views this week. 1600 edits were made, and 183 photos were uploaded. Thank you for all your contributions this week!
---
Weekly Poll
Last week the community was asked which Antagonist of the GTA series was their favorite. Here are the results:
3. Lance Vance with 2 votes.
2. Dimitri Rascalov with 8 votes.
1. Frank Tenpenny with 9 votes!
This week's poll:
Which of the Bikers vehicles do you like the most?