WIKI NEWS | GTA NEWS
Hello, and welcome to GTA Wiki Weekly News - 30th August 2019.
As we are about to enter September, let's look back on what has been accomplished this month! This month has seen more than 14 million page views from across the globe, and more than 7,000 edits to articles. We averaged almost 500,000 views and 250 edits per day. This month saw the completion of much of the Diamond Casino & Resort update content including the many vehicles (of which 10 are still yet to be released) included in the update, the Casino Work missions and much, much more. We still hope to expand upon this as we enter the new month. This last week has been relatively quiet compared to previous weeks following this update, but we look forward to building upon that!
Feedback for the GTA Wiki Weekly News series is welcomed - please let us know what you would like to see in each issue, or how existing features could be expanded - we would be interested to know what you think so far. We are already experimenting with possible ideas so stay tuned for upcoming issues.
Administrator Matrexpingvin will be inactive during this week. All Administrators and Patrollers must keep in full-form.
Another week has gone by and Patroller spots are still available. Remember, you may apply at GTA Wiki:Requests for Promotion if you think you may qualify for the role.
A selection of this week's uploads:
FANDOM - WIKI ACTIVITY MONITOR
In the Games category, GTA Wiki currently sits at*:
Rank 6 (+1 from last week)
Score 99.4 (-0.02 from last week)
* as of August 29th, 2019, retrieved from community.fandom.com/wiki/WAM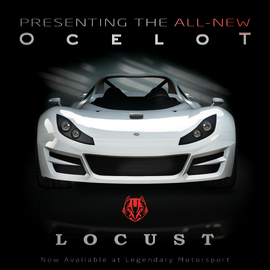 "The open-top, two-seater Locust pedigree goes all the way back to '69 and this is what you get after decades of track testing: no roof, no windscreen, no windows, no compromises and no interest in personal safety. If you ever wondered what it's like to drive around in a logical conclusion, this is your chance to find out.
The Ocelot Locust Sports car, available now at Legendary Motorsport."
This week in GTA Online, it is Locust Week, running from August 29 - September 4, 2019
This week's bonuses:
Players who log in this week unlock an exclusive Tee and two exclusive Liveries.
The Lucky Wheel prize is the Taipan.
Double GTA$ rewards in Gunrunning, Special and Air Freight Cargo Sale Missions.
Double GTA$ and RP rewards in the Bunker Series.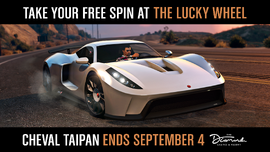 This week's discounts:
40% discount on the following vehicles:
75% discount on the Akula and Menacer for Twitch Prime members.

A further 10% discount on all other discounts (only for Twitch Prime members).

40% discounts on Bunkers, Bunker Renovations & Add-ons, Hangars, the Hangar Workshop and Hangar Renovations & Add-ons.
Thank you to everyone for continually helping the GTA Wiki become the number one source for information on the Grand Theft Auto series. Be sure to tune in same time next week for next week's issue.
Community content is available under
CC-BY-SA
unless otherwise noted.