WIKI NEWS | GTA NEWS
Hello, and welcome to GTA Wiki Weekly News - 23rd August 2019.
Summer is quickly coming to an end as we are about to enter week 35 of the year. Edits on the wiki this week have been extremely substantial as we focus on closing in on the remaining GTA Online: The Diamond Casino & Resort content, including missions and vehicle customization. The end of last week saw twice as many edits as the previous week and the highest number of edits in a single week since the initial release of the aforementioned update. This week we are anticipating to do just as well!
As the second issue of the series, feedback for the GTA Wiki Weekly News series is welcomed - please let us know what you would like to see in each issue, or how existing features could be expanded - we would be interested to know what you think so far.
We are still on the search for some wonderful, dedicated contributors to fill our vacant Patroller positions available at the moment. If you haven't already, consider applying at GTA Wiki:Requests for Promotion if you think you may qualify for the role of Patroller!
A special mention to Kamikatsu_ and Matrexpingvin who have been extra busy creating articles this week! The following new articles were created on the wiki this week so far:
667 new files were uploaded to the wiki this week, including:
FANDOM - WIKI ACTIVITY MONITOR
In the Games category, GTA Wiki currently sits at*:
Rank 7 (+1 from last week)
Score 99.42 (+0.17 from last week)
* as of August 22nd, 2019, retrieved from community.fandom.com/wiki/WAM
Did you know this time...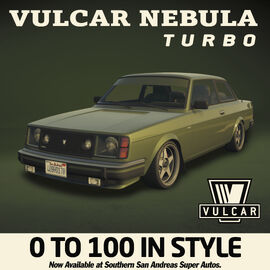 "The 70's called, and they want their oil crisis back. They also mentioned something about a family sedan with the soul of a turbo-charged, take-no-prisoners touring car, but we're keeping that.
Introducing the Vulcar Nebula Turbo, now available at Southern San Andreas Super Autos."
This week in GTA Online, it is Nebula Turbo Week, running from August 22 - August 28, 2019
This week's bonuses:
Players who log in this week unlock two exclusive T-Shirts.
The Lucky Wheel prize is the Schlagen GT.
Double GTA$ and RP rewards in the Race Series.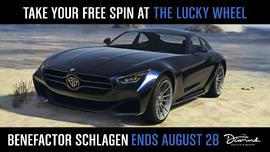 This week's discounts:
40% discount on the following vehicles:
30% discount on the Deveste Eight.
30% discounts available on selected Bar & Party Area and Penthouse renovations, and Casino Shop items.
Thank you to everyone for continually helping the GTA Wiki become the number one source for information on the Grand Theft Auto series. Be sure to tune in same time next week for next week's issue.
Community content is available under
CC-BY-SA
unless otherwise noted.