---
Welcome to the GTA Wiki Weekly News!
---
In the GTA Series
I hear there are some bonuses... alright let's be honest, was this week about GTA Online? No, of course not...
...But for those who are interested, there will be a new Halloween-themed motorcycle released on Friday, October 28 called the LCC Sanctus, and a new Adversary Mode called Lost vs Damned. Additionally, Halloween content from 2015 will also become available once again. Also released on Tuesday, October 25 was the Pegassi Vortex, a new streetfighter motorcycle.
Finally, the following vehicles will be discounted by 30% from now until Monday, November 7, 2016, along with certain tattoos and outfits (see poster) as part of the 3rd Anniversary of Grand Theft Auto V/Online: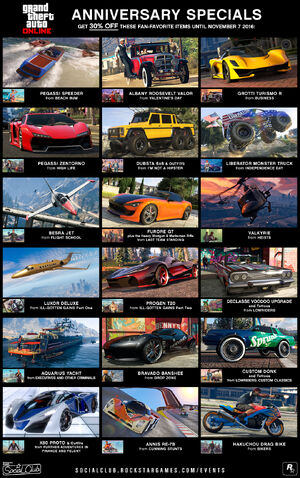 ---
Elsewhere with Rockstar
Of course, the biggest news this week was the announcement of Red Dead Redemption 2 by Rockstar on Tuesday. The trailer dropped on Thursday at 3pm GMT, which you can view here. It showcases a brief view of the beautiful world we all know Rockstar are the best at creating. Not much else is known yet but an analysis of the trailer by our partner, GTASeriesVideos, can be found here. All the information you need is within these links, and the game is said to be coming out fall 2017. Let's hope we don't get further delays like with GTA V.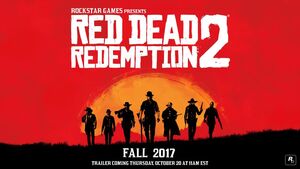 ---
On the Wiki
The user with the most edit this week is Monkeypolice188 with 192 edits. Congratulations.
The weekly total views for the wiki is 2 million.
---
Weekly Poll
Last week the community was asked where they wanted the next Grand Theft Auto game to be set. Here are the results:
3. London and Australia with 1 vote.
2. Tokyo with 2 votes.
1. Way, way in the lead is somewhere still in the USA with 16 votes.
Now onto this week's poll. With the announcement of Red Dead Redemption 2, this poll seemed the most fitting.
What is your favorite series created by Rockstar Games?