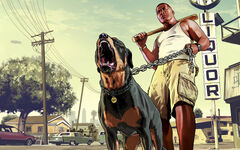 What's up everyone. I'm Painkill from Baltimore, (now residing in Atlanta, Georgia ). I became a fan of GTA when I went over my brother's friends house and saw him playing GTA San Andreas in 2004, I was hooked from the very beginning but sadly I never got the chance to play. In 2010, I finally found out that no other video game could cheer me up when I had a bad day, make me feel happy or excited and make me love it like GTA did. That's why Rockstar Games are my favorite game developers, they put so much energy, focus, dedication, hard work, time and love into their games.
Personality
I'm a very cool guy to get along with and trust me, it is easy to get on my good side. I look for a few things in a person before they can be consider a friend - honesty, loyalty, trustworthy, believable and a good sense of humor, (Call it me being a picky as hell, but I call it me being honest).
Personal Grand Theft Auto Reviews
(I will not do any review for any 2D games because I haven't played them for a while)
Story - In my view, the story for this game was fine. Not perfect, but fine. It was a good tale of revenge and greed and how one person can turn your life upside down in a faint heartbeat. Although it did lacked alot of content for me to get emotionally attached. - 8/10
Characters - For a game that's set in 2001, it had a good amount of characters for it's time. But now, in 2013, that's not the case. They seem like old, cliche and easily forgettable characters. They don't really pack much depth to them and they don't have much emotion. - 5/10
Gameplay - Like the characters, this game had alot of good gameplay moments for it's time. But now, compared to other GTA games, it lacks a huge amount of content and replay value.
Community content is available under
CC-BY-SA
unless otherwise noted.