STATUS:
ACTIVE
(Click here for my GTA Online character)
(Click here for my Wikia milestones)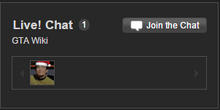 About me
Hey there! I'm Jiralhanae117, but you can call me Jiral. Like you, I'm very interested in video games and getting laid, especially Grand Theft Auto V, but I play other games as well. You'll find me making mostly minor edits around here, because I can't think of anything really important to add to this wiki.
Hobbies
Hey, what's that? You're sure my hobbies are pretty cool, but aren't interested in reading a list containing them? Well, here's a list containing my hobbies!
Gaming (Duh)
Writing
Reading
Cycling
Piano-ing
Going to my local PetSmart and asking to pet strangers' dogs
Petting my own dogs
Procrastinating
REST OF THE LIST WILL BE FINISHED BY TUESDAY
Favourite Games
I don't have anything witty to say this time.
Grand Theft Auto V
Team Fortress 2
Half-Life series
Verdun
Community content is available under
CC-BY-SA
unless otherwise noted.