---


Important:
Due to college and a new job, I might not be fully active during this month.



You may contact another staff member.
---
Due to college, I will be offline between 18:00 and 22:00 from Monday to Friday. You may contact other staff members.
"To achieve someone's respect, you need to at least try, but to achieve someone's admiration, you have to succeed."
— My own quote
The Chemical Brothers - Go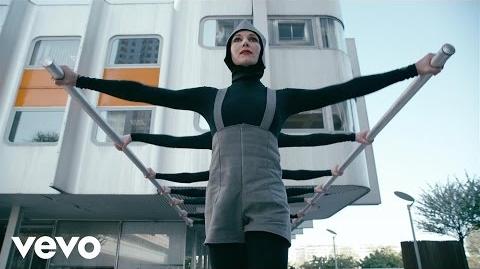 Grand Theft Auto
games currently owned
Welcome
Welcome to my profile page. It maybe not be the best profile of GTA Wiki, but its nice and clean, and smell like lemon. (OK, maybe i just made up that last part)
Since you are here, I think you should stick around and enjoy my profile. But you can also go away and never return, I mean, its not like you should do everything i want, I'm just a guy talking to you through a computer not your mother. Anyway, back to my profile...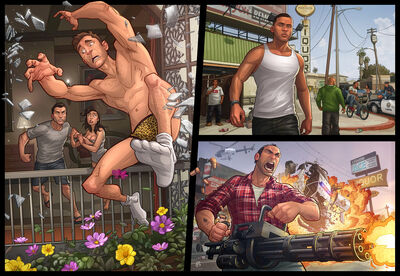 Amazing fanart by artist Patrick Brown, see more on his deviantart page.
Character
About Me
I'm from Brazil (the new homeland of Max Payne \0/), meaning that english its not my mother tongue, so if you find any grammar mistakes along this page, you know why. I have been playing GTA since the age of 7. My very first GTA was GTA III, that I played on the computer of a uncle. I loved that game like no other game that I have ever played and my parents ended up buying a PS2 for me just because of that game, later I also bought a Xbox360 just because of GTA IV. Looking this logic, you can probably guess that I will only get a PS4 or XBOXOne when Rockstar announce GTA 6.
Top 5 Favorite Missions
GTA III
GTA Vice City
GTA San Andreas
| | | |
| --- | --- | --- |
| | This article or section is Under Construction. | |
My Sandboxes
Current Working On
Some minor cleanups here and there.
Putting an infobox in any page that can use one.
Trying to improve all the pages related to GTA IV and its episodes.
My best works on Wikia
I created a page for each of the movies in the Classicvinewood.com website.
I create a page for each of the customers in the Private Taxi Fare missions, and the page for the mission too.
I create a page for each of the characters that appears in the random events.
I cleanup the random events page.
I made an organized and more detailed stock tip for each of the assassination missions for Franklin.
Other Games That I Like
Assassin's Creed (only the first two, after this the series went downhill and went hard)
Red Dead Redemption (hands down the best westerd game of all time)
L.A. Noire (hands down the best noir game of all time)
Sleeping Dogs (this game surprised me, I thought that I would be a cheap and lazy GTA knockoff... but ended up being a pretty fun and good GTA knockoff)
Saint's Row (never understood the hate that The Third and 4 get, people always complained that Saint's Row was just an GTA clone, but when this series finally decides to step out of GTA's shadow and find his own way, people bitch that it's not Saint's Row anymore, go figure)
The Elder Scrools (Daggerfall - masterpiece, Morrowind - pretty good, Oblivion - average, Skyrim - Overrated, Overrated, Overrated)
Fallout (So far only played the third one, pretty nice, the true Skyrim with guns)
Bioshock (fist one - really good, second one - good, Infinite - *puts gun in his own month BANG!)
Deus Ex series (awesome games, would recomend all of then for anyone)
Thief series (the first three are masterpieces, the 2014 one is an abortion in his best days)
Shenmue (I would sell my mother to get an Shenmue 3, ok, maybe not my mother, but you get the point)
Crash Bandicoot (only the PS2 ones, Crash was a great part of my childhood)
Grim Fandango (another one that was part of my childhood, can't wait for the HD remake on PS4)
Watch Dog... Pffff Hahahahhaha just kidding! Fuck this game.
Contributions
Community content is available under
CC-BY-SA
unless otherwise noted.