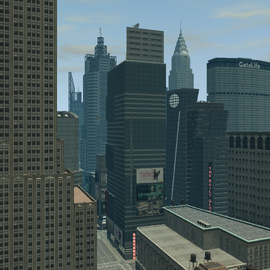 The Triangle Tower is an unnamed skyscraper appearing in Grand Theft Auto IV and Grand Theft Auto: Chinatown Wars, located in The Triangle, Algonquin.
Description
The building is located between Iron Street to the north and Hematite Street to the south, and Denver-Exeter Avenue to the west and Burlesque to the east.
It appears as a 40+ story high skyscraper, presumably serving as an office building, situated within the heart of Algonquin surrounded by many high-rise apartments and buildings, including the nearby Rotterdam Tower to the south west. It looks directly over the southern Denver-Exeter Avenue-Burlesque Building into the heart of Star Junction despite it and its northern fringed-building being located in The Triangle. It is also north of a Spender's store and the Triangle Building is located south east of it.
The building holds many billboards of shows and films, including Conjoined Twins, Medicate Me, Waning With The Stars, I'm Rich, Princess Robot Bubblegum as well as the clothing brand Anna Rex and the Badger cell phone.
The building is based on the Times Square Tower in the Times Square district of Manhattan, New York City.
In the game files, the building is known as "tstower", likely referencing Times Square Tower, its main inspiration.[1]
Triangle Tower is the tenth tallest skyscraper in the game, beaten by the Cleethorpes Tower, GetaLife Building and MeTV Building.
Gallery
See Also
References
↑ manhat09.img: ts_tstower_dc9.wdr
Community content is available under
CC-BY-SA
unless otherwise noted.