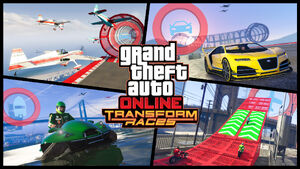 "
Instantly mix vehicle and race types as you switch between land, sea and air in Transform Races, the next evolution of stunt racing in Grand Theft Auto Online. Jump instantly from the curves of a gritty, downtown street race straight into a speeding jet high above Los Santos, then dive face first down Raton Canyon on a jet ski and more. Transform Races are new and unique stunt tracks that seamlessly transition across land, sea and air, running the gamut of available vehicle types - everything from Supers and Off-Roads, to Boats, Planes, and Helicopters - and even some skydiving thrown in for good measure.
"
— Description, Rockstar Newswire.
Transform Races are a variation of Stunt Races featured in Grand Theft Auto Online as part of the continuation of the Smuggler's Run update, released on October 17, 2017, during the Transform Race Week event.
Description
Transform Races are similar in style to Stunt Races, but the biggest difference is a new type of checkpoint; a transformer checkpoint. This checkpoint changes the player's vehicle into another type of vehicle, such as from cars to trucks, planes, helicopters, boats, bikes, or even parachutes. There will be at least 3 transformations during races, as as such, the course itself will not entirely be focused around one specific type of vehicle, i.e., race courses will go through air, land and water. As well as the transform checkpoint, another new checkpoint, known as the Warp checkpoint, will teleport the player to another location when hit. Several races, particularly "Warped", currently feature this. The Warp checkpoints work in pairs, wherein the first warp checkpoint teleports the player to the second.
Like regular races and Stunt Races, the player is able to use their own custom vehicle, assuming "Custom Vehicles" is enabled by the host. When Custom Vehicles is enabled, the player will not only be able to choose their own custom "base" vehicle (the vehicle out of a specific vehicle class that the race is based on, for example, Motorcycles class), but they will also be provided with their own personal transform vehicle, assuming they own the respective transform, e.g., the player will be transformed into their own Oppressor when hitting the Oppressor transform, assuming they own one. If not owned, they will be transformed into a stock counterpart with a generic color, as well as if the race has "Custom Vehicles" disabled.
Stunt tracks remain the same, often consisting of hamster tubes and raised racing platforms. New props are also present, including cones and larger sized hamster tubes. Constructions used in races are much larger in scale, rather than simple race tracks. Transform Races content is claimed to be coming to the Creator later in the year.[1]
List of Transform Races
There are currently 39 Transform Races. These are listed in the Stunt Races list, with the "Transform" notation. 15 were added with the initial release, another was added in the Halloween Surprise 2017 event, 16 more were released as part of the FH-1 Hunter Week event, and 7 more were released as part of the Transform Race and Creator Updates Week.
Added as part of the Halloween Surprise 2017 event
Added as part of the FH-1 Hunter Week event
Added as part of the Transform Race and Creator Updates Week event
Transform Vehicles
Some common vehicles that appear in Transform Races include:
Gallery
Official Screenshots
Artwork
Videos
Trivia
See Also
References