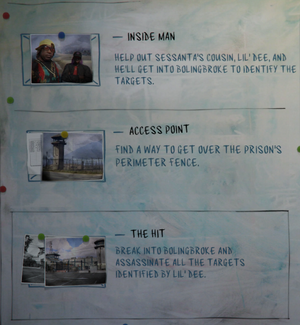 "
Inflitrate Bolingbroke Penitentiary and assassinate several targets.
"
— Contract description
The Prison Contract is a Contract introduced to Grand Theft Auto Online in the Los Santos Tuners update.
Overview
The Contract can be selected if it is one of the three available contracts on the GTA Online Protagonist's Job Board in their Auto Shop.
Sessanta will tell the player that the biggest gangs in Los Santos want a few rats to be killed as they have double-crossed these gangs. They are inside Bolingbroke Penitentiary in order to have themselves protected from the gangs. The player will need to find a way inside the penitentiary, have someone ID the targets, and assassinate them.
The Contract, like other Contracts, consists of two Free Mode preparation missions and one finale.
Preparations
Inside Man
"
Help out Sessanta's cousin, Lil' Dee, and he'll get into Bolingbroke to identify the targets.
"
— Preparation description.
Access Point
"
Find a way to get over the prison's perimeter fence.
"
— Preparation description.
The Hit
"
Break into Bolingbroke and assassinate all the targets identified by Lil' Dee.
"
— Finale description.
Gallery
Video Walkthrough