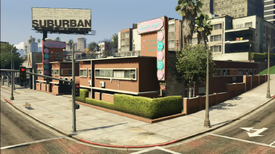 The Pink Cage Motel is a motel located on the intersection of Hawick Avenue and Meteor Street, opposite of a Fleeca Bank in Alta, Los Santos. The business offers thirty-seven air-conditioned rooms with color televisions. Residents also have access to a fenced full-length swimming pool from twelve to nine. According to a sign at the entrance to the building, prostitution, visitors and food or drinks within the area of the pool are prohibited.
Influence
The Pink Cage Motel may be based on The Pink Motel in Sun Valley, Los Angeles.
Trivia
There are four Household Order Bin Operations dumpsters within the area.
The solar panels on both of the units can be used as stunt jumps.
On the balcony railings of the motel are beach towels reading: "I ♥ VC".
There is a Body Armor near the swimming pool.
One can clearly see why the establishment is called The Pink Cage, considering the rules are incredibly strict!
Gallery
Community content is available under
CC-BY-SA
unless otherwise noted.