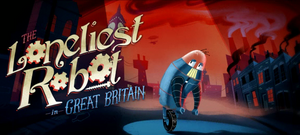 The Loneliest Robot in Great Britain is a viewable film in Grand Theft Auto V produced by Fred's Pictures, a British movie company and directed by S. Louis Crawford.
Description
A 10-minute animated fable set in a dystopian futuristic Great Britain, it features a rather light-hearted and family friendly look which is overshadowed by scenes of violence, profanity, homophobia, sexual content, and dark images. Despite this, it is rated PG for "Parental Guidance". It includes easter eggs and references of past Grand Theft Auto titles, such as the British spanking lover Freddy.
According to an Internet news article from WNKA International after the mission Crystal Maze, the movie was banned in the United Kingdom as it was considered pornographic.
Influence
The film was based on a movie adaptation of George Orwell's influential and controversial book Nineteen Eighty-Four which also takes place in a dystopian futuristic Great Britain. However, it contains several references to prying or overly-controlling authority figures, and attempts by government to increase surveillance.
The film also seems to be largely inspired by WALL-E, a Pixar science fiction film that at the beginning portrays a lonely robot in a largely dystopian future Earth.
Clothing
On May 13th 2015, Rockstar Games announced a contest for GTA players to create a music video for the song "Leave" by the band Wavves using the Rockstar Editor. Any user who uploaded a video to the Social Club during the contest period (not just entries in the competition) would win an in-game T-Shirt bearing the logo of The Loneliest Robot in Great Britain[1]. This t-shirt was awarded after the contest ended on Monday 8th June.
Gallery
Trivia
The protagonist of the movie, Martin, shares similar traits with Trevor Philips, as both consider themselves lonely, both had a rough childhood with their mother and towards the ending of the film, Martin gets chased by an army of police robots and he gets incredibly angry and becomes a killing machine (similar to Trevor's special "rage" ability). If taken to watch the movie as Franklin or Michael, Trevor might comment that the movie was silly, but he loved it.
The DJ of Non-Stop-Pop FM, Cara Delevingne, loves the movie, particularly the protagonist, Martin.
The letter O likely resembles Alex DeLarge's gear eyeliner from A Clockwork Orange.
It is the only viewable movie without ending credits.
The scene in the finale of Martin climbing Big Ben with Maureen's head in his arms, before being shot down, is a reference to King Kong.
The resurrected Maureen only being able to say 'pieces of eight' is a reference to Treasure Island, where Long John Silver's parrot can only say the same phrase.
This movie was featured by CinemaSins in their Everything Wrong With... series, and can be found on YouTube.
Martin can be seen playing games on a Degenatron.
References
Community content is available under
CC-BY-SA
unless otherwise noted.