The Gurning Chimps were a musical group featured in Grand Theft Auto: San Andreas. Maccer and Kent Paul members of the group seen in the game.
1992
In 1992, Kent Paul is managing this group; in the San Andreas Introduction film, Maccer and Paul are shown in a recording studio in England, Paul having just bought Maccer's contract. The two decide to try their luck in America, and the band travels to San Andreas.
Later in the year, the band, Kent Paul, and The Truth take peyote in the middle of the Las Venturas desert. Maccer and Paul wake up the next day to find that the rest of the band have disappeared. Five months later, the band members are found, and Maccer denies to the media that they were ever missing, but simply "on break".
1998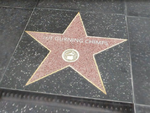 The Gurning Chimps were active by the time of Grand Theft Auto: Liberty City Stories, which takes place in 1998 — Head Radio DJ Michael Hunt indicates Maccer vomited on his shoes the night before, at the band's backstage party.
Inspiration
Maccer is voiced by musician Shaun Ryder; the Gurning Chimps are likely inspired by Ryder's real-life band from the late '80s/early '90s, the Happy Mondays. The Happy Mondays were instrumental in the creation of the early '90s acid house, rave and "Madchester" scenes in England, focused on the northern city of Manchester. However Maccer's appearance seems to be based on Ian Brown, the lead singer of another Manchester band, The Stone Roses, even having a 'Stone Roses Lemon' on his bucket hat; a piece of clothing synonymous at the time with Stone Roses drummer Reni.
Community content is available under
CC-BY-SA
unless otherwise noted.