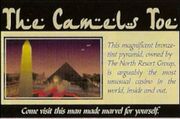 "Terrible Egyptian-style casino. They won't pay us off or anything. We should put the squeeze on these guys."
―GTA San Andreas Website

The Camel's Toe is a casino and hotel in Las Venturas, San Andreas. The hotel is a parody of the Luxor Hotel in Las Vegas, Nevada, including the obelisk tower, the pyramid, and the recreated Sphinx. The name of the casino hotel is derived from "cameltoe", a slang term referring to the profile of a woman's vagina as a result of wearing tight fitting clothes.
Though it is not possible to enter the casino itself, the player may choose to buy an available suite for $6000, therefore allowing the player access. The Camel's Toe is situated along The Strip, south of the Royal Casino and north of the Come-A-Lot casino.
A few streets east of The Camel's Toe bordered to the Julius Thruway East is also considered The Camel's Toe.
Collectibles
Vehicles
Trivia
Gallery
See Also