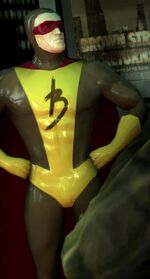 The Brown Streak is a fictional superhero in The Ballad of Gay Tony and Grand Theft Auto V. The name of a film starring him, The Brown Streak Returns, implies that comic books, movies, or television shows have revolved around him previously. In The Ballad of Gay Tony, Luis Lopez has a small action figure displayed on the table holding his TV and Yusuf Amir has a life size statue of him.
In GTA V, a poster of Brown Streak is seen on the side of a house on Brouge Avenue in South Los Santos. Brown Streak action figures can be found at a variety of locations in Los Santos including Franklin's Strawberry safehouse and Lester's house.
Like the Brown Streak train, the superhero's name is another example of toilet humor from Rockstar.
Trivia
The Brown Streak Returns's tag-line is: THEY TRIED TO WIPE HIM OUT...BUT THEY MISSED A BIT....
The Brown Streak may be a reference to the superhero, Silver Streak.
The Brown Streak Returns could be a reference to superhero films Superman Returns and Batman Returns.
His name and many other things about him are an obvious innuendo to feces, with brown streak being a slang term to diarrhea.
Community content is available under
CC-BY-SA
unless otherwise noted.