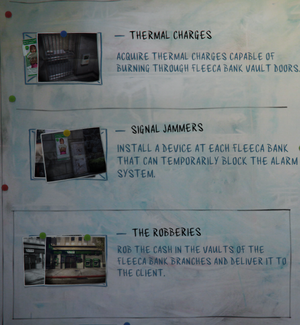 "
Hit Fleeca banks across Los Santos and Blaine County and grab all the cash you can.
"
— Contract description
The Bank Contract is a Contract introduced to Grand Theft Auto Online in the Los Santos Tuners update.
Overview
The Contract can be selected if it is one of the three available contracts on the GTA Online Protagonist's Job Board in their Auto Shop.
When starting the contract for the first time, Sessanta will give a synopsis on the contract. She informs the player that a former Fleeca employee has given a contract to KDJ to rob six Fleeca banks, with Sessanta assisting in the preparations to execute said robberies.
The Contract consists of two Free Mode preparation missions and one finale.
Preparations
Thermal Charges
"
Acquire thermal charges capable of burning through Fleeca bank vault doors.
"
— Preparation description.
Signal Jammers
"
Install a device at each Fleeca bank that can temporarily block the alarm system.
"
— Preparation description.
The Robberies
"
Rob the cash in the vaults of the Fleeca bank branches and deliver it to the client.
"
— Finale description.
Gallery
Video Walkthrough