"The 2 gangs collide once again but this time in 80's style."
―Description
The 80's Turf War is a Rockstar Verified user-created deathmatch featured in Grand Theft Auto Online.
Overview
It takes place on Grove Street in Davis, and consists of close and medium range firefights with some vertical combat.
This job is designed to represent rivalry between two gangs on Grove Street in Davis during the 1980s. The map contains over the top, action movie inspired weapons while also using proper placement of the vehicles that were introduced in the "I'm Not a Hipster" update, so the area feels vintage. Players begin the match with Micro SMGs, although more powerful weapons can be acquired around the map. A variety of climbable objects are also present, allowing players access to the rooftops of nearby buildings and adding more verticality to the combat.
Vehicles
Weapons
Pickups
Map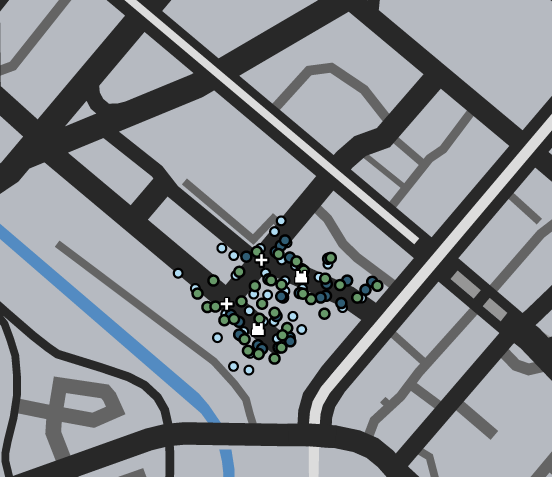 Tips
Hide in alley ways to take cover from enemies approaching from Brouge Ave.
Climb onto rooftops to gain control of Grove St.
Rush and take cover from enemies behind vehicles.
Trivia
Although this map is based upon the 1980s, the Panto, which is a Smart Car, is featured on the map. The first Smart Car was not introduced to the real world until 1998.
Community content is available under
CC-BY-SA
unless otherwise noted.